Bob and Betty Bennett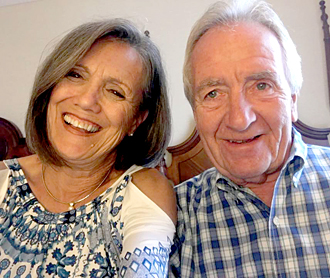 To paraphrase one of Mark Twain's quotes, "Always do what's right. It will amaze your friends and confuse your enemies!" This is one of Bob Bennett's favorite quotes, and words that he practiced throughout his life and entire career. With this motto in mind, Bob and Betty have built a love for the community and hope to inspire future generations. Bob's said advice for those around him is to "follow Mark Twain."
Born on October 28th, 1943 to Robert and Doris Bennett in Lincoln, Nebraska, Bob spent the first six weeks of his life there before returning to Salem, Indiana. At the time of his birth, his father was serving our nation in the U.S. Army stationed in Lincoln, Nebraska during World War II. The oldest of three, Bob attended Salem Community Schools and participated in athletics such as football and track. After graduating in 1961, Bob studied at Indiana University Bloomington, pursuing a degree in business. Planning on heading to law school after receiving his bachelor's degree, Bob was called into active duty with the U.S. Air Force as a contract negotiator for the federal government while Vietnam War was in progress. It was at this time, while stationed at Hanscom Air Force Base in Bedford, Massachusetts, that he met his future bride.
Betty was born on January 21st, 1947, in Lowell, Massachusetts, the oldest of three children born to Helen (Corliss) True and Walter True, a third-generation railroad worker employed at Boston and Maine Railroad (B&M). Betty spent her first five years of childhood in Ballston Spa, NY before moving to Greenfield, MA in 1954, where she graduated from Greenfield High School and continued her education at the University of Massachusetts, Amherst with a major in elementary education and a minor in psychology. Growing up in a larger rural area similar to Salem, Betty was introduced to music at an early age as both of her parents shared a love of music. Throughout high school, she not only excelled in academics, but was also heavily involved in extracurriculars such as cheerleading, band and chorus. After graduating from UMass in 1969, she began her first four years of her teaching career at Hanscom Primary School, in Bedford, Massachusetts.
Distance did not serve as an obstacle in their relationship when Bob returned to Indiana in 1970 to pursue his goal of attending law school at IU Bloomington. Although miles apart, Betty made multiple visits to the college campus and spent quality time in the music practice room. As an avid lover of music, Betty excels not only in singing, but also mastering several instruments including piano and Appalachian dulcimer.
Following law school, Bob returned to Massachusetts where he continued his work for the federal government as a contract negotiator purchasing electronic systems such as radars and satellites. Bob and Betty married on December 30th, 1972, in Greenfield, Massachusetts. Shortly after, John Mead, prosecuting attorney in Salem, offered Bob an opportunity with the Mead Law Firm to begin his legal career. Taking the offer, the married couple moved to Salem while Betty was pregnant with their first child, Robert. After the passing of Bob's great uncle, Dr. Anthony Baker, the family moved into the 195-year-old house they still call home today. During the first few years, Betty stayed at home with their son, Robert, and their daughter, Rebecca. Subsequent to being a member of Mead law firm and upon the death of Chester Hobbs, Bob took over the Hobbs' legal practice. Then, in August of 1980, he became the Washington County Circuit Court Judge, a position he held until his retirement in 2010. Although retired, Bob continues to work for the state as a senior judge and special judge in Salem and the surrounding Indiana counties.
Betty continued her teaching career at Bradie Shrum Elementary, starting in 5th grade and then moving to 3rd. At the same time, she was furthering her education by pursuing a master's degree in counseling at IU Bloomington. After six years of dedication at Bradie Shrum and receiving her master's degree, Betty accepted a position as a school counselor at East Washington Elementary where she started the counseling program and continued to work for ten years. Subsequent to working at East Washington Elementary and earning her administration certification, she became the Assistant Director of Special Education for Crawford, Orange, and Washington County. She later moved on to be an elementary school principal at Greater Clark County Schools, serving in New Washington, Indiana, for eight years before her retirement in 2009.
For Bob and Betty, their parents have been the biggest mentors in their lives. "My mother always quoted from Longfellow; Let us, then, be up and doing, With a heart for any fate; Still achieving, still pursuing, Learn to labor and to wait," Betty said. Through love, support, and positivity, their parents have helped shape them into who they are today.
As members of First Christian Church, they both hold a strong belief in faith. For Betty, the five core values of the PEO Sisterhood; faith, love, purity, justice, and truth, serve to be some of the best guiding principals that she attempts to follow in life. As for Bob, his strongest beliefs evolve from the legal profession where he subscribes to being a strong believer in justice, diversity, and equality. "The biggest qualities I admire in him have to be his honesty, trustworthiness, and mostly the determination to do the right thing, regardless of what others think," Betty said. Their faith influences their desire to serve others as well as their ability to serve as mentors for others.
Looking back, one of the biggest challenges they faced throughout life had to be balancing time for what you want or have to do. "One of the greatest characteristics of Betty is that she works very hard to accomplish tasks that she's assigned," Bob said. The power of discernment and perseverance allowed them to overcome the race against time. "Money is not the most important thing, time is the most precious," Betty stated. With their biggest accomplishments being their children, their son, Robert has moved on to be a composer and film scorer residing in Nashville, TN, and their daughter, Rebecca, an attorney and Managing Director of Wealth Advisors at Stockyards Bank in Louisville residing in Greenville, IN. In addition, they are blessed with four grandchildren. Bob and Betty are community-minded people who dedicate time and money to helping others. Following retirement, the couple continues to serve many roles in the community. Betty is actively involved with the Louisville Chorus, PEO, Indiana Retired Teachers Association and is on the Board of Directors for the Washington County Community Foundation. Bob is involved in several legal organizations, a member of the Masonic Lodge, and continues to be a member of the Indiana Judges Association. Aside from community involvement, they both enjoy outdoor sports such as kayaking and water sports, and traveling, mostly to visit family. The couple also shares a strong love for music, whether it's doing music, listening, or dancing.
When asked about their love for Washington County, Betty stated, "it's a great place to raise children. There's an energy about this place and a beauty that feeds our souls," In the case of location, despite being semi-rural, Washington County carries a special geographical quality that allows multiple access to bigger cities within a range of 30-45 minutes.
Despite retirement and their family living away from their hometown, they continue to stay in Salem as "there's still stuff to do," Betty said. "There are a lot of ways to leave legacies. Through this fund we hope to provide opportunities for people to accomplish what they love to do," said Bob. Betty added, "We are grateful for the opportunity to be able to do this." Striving in every way, the couple's faith and kindness allowed for the establishment of the Touch Tomorrow Fund. From their generosity and support, their legacy will live on, as will their values and beliefs.