Mimi Lewis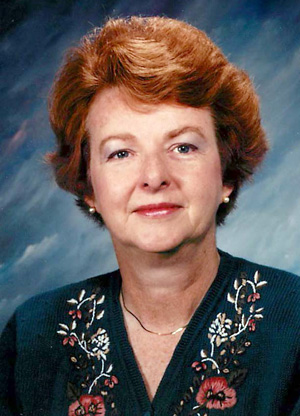 Full Steam Ahead
For Mimi Lewis Riffle, "Full Steam Ahead" is more than an expression…. It is a way of living. She never came upon an obstacle she couldn't get around.

Mimi was born in Yonkers, New York. For the first few years of Mimi's life her grandparents cared for her while her mother worked as a secretary. After first grade, Mimi and her family moved to the suburbs of Philadelphia followed by Allentown, then Wilkes- Barre area, following her step-father's work.

With the exception of part of 9th grade, Mimi spent all of her Pennsylvania years in Catholic schools. She graduated from St. Mary High School, taught by the Sisters of Mercy (R.S.M.). This religious order also operated a Wilkes-Barre hospital and College Misericordia (now Misericordia University). Mimi attended Misericordia on a full scholarship for freshman year. By the time she graduated with a B.S. in Home Economics, tuition costs had increased so her scholarship only covered half of her tuition. She worked to cover her additional costs. Unlike today's world however, she graduated debt-free and academically prepared for several professional areas.

Her first job (beyond babysitting) was as a soda jerk at Harvey's Lake at age 15 with finagled paperwork: Pennsylvania required applicants for work permits be 16. Other high school and college part-time jobs included working weekends and summers clerking in department stores and waitress work in resort hotels in the Poconos and Atlantic City, NJ. A treasured memory was working as a department store Easter Bunny.

Teaching jobs were scarce in the local area, so after college she accepted a teaching position in Bergenfield, NJ, just forty-five minutes outside of New York City. Although teaching Clothing and Textiles was not her strong area, that was one of her class assignments. "I managed to keep a week or two ahead of the students," she stated. "My specialty was Foods and Nutrition, but I had a wonderful mentor who helped me build my skills in Clothing. I also compensated by spending my first summer commuting to NYC to the then renowned Traphagen School of Fashion Design. "

While teaching in Bergenfield, she married a fellow teacher, Bill Lewis, who was from Campbellsburg, IN. She stopped teaching when she was six months pregnant with Amy. Scott arrived a year later. Desiring to be in a smaller community and leave the big city and traffic behind them, they moved to her husband's hometown, Campbellsburg, in 1967, while Mimi was pregnant with their third child, Brian. The fourth and last child, Michael, was delivered by Dr. Apple in 1970.

Mimi settled into the slower paced life style of Campbellsburg, quite a culture shock for a big city girl. They purchased one of the historic Victorian Wilkin's homes and restored it. But, renovating a house and raising four kids wasn't enough…. Mimi got involved in the community. She was a charter member of the Campbellsburg Betterment Association, the catalyst group initiating the festivals the community would continue to enjoy in the coming years. Craftsmen and artists were enlisted, antique dealers joined in. Ad Grey from Punkin Center was involved, providing fresh cider from his cider press. Joanna Gilli helped with the Arts and Crafts festival and Marjorie Hedrick contacted antique dealers. As the festivals grew, the leaders realized that a Nashville –like opportunity was available. So, Mimi and her husband started the Strawberry Barn restaurant with the help of several investors. Some small craft shops occupied adjacent buildings. She was part of a delegation to visit Nashville, Indiana to study their development plans, hoping for similar success in Campbellsburg. Congressman Lee Hamilton entered a Salem Leader article about Campbellsburg's community revival efforts in the Congressional Record.

The Strawberry Barn which seated 250, with its turn-of-the-century décor in the historic Hardin and Wade building, burned down Mother's Day weekend, 1972. Because it was underinsured it could not be rebuilt, so as Mimi states, "The Strawberry Barn died, and soon, so did my marriage."
She returned to teaching part time and shortly secured a full time position at West Washington High School, completing her Master's Degree from Purdue in two years of night and summer school.
By 1976 Mimi was a single mom raising four young children. To make ends meet, she also worked at the Galt House on the weekends and during the summer. Eventually, she was offered a summer job at West Washington teaching low income students employment skills in quantity cooking and restaurant work.

It was tough times for the family. The money management skills taught in Home Economics were put to daily use. The kids helped; all had jobs growing up. "They did just about everything," states Mimi proudly, "including delivering newspapers, mowing for neighbors, babysitting, teaching piano lessons, shaping Christmas trees at a tree farm, digging ditches for the Gas Company, roofing and carpentry for a home builder. Quite by accident they acquired some valuable skills."

Mimi's constant example of persevering during hard times probably influenced her children's lives, although she is quick to credit their mentors. "All my kids grew up under Chris's wing (Chris Bundy, the Theater/Drama/English teacher at West Washington.) He made a big difference in their lives, as did Cecil Smith, Tony Schroeder, Paul Kishel, Kent Short and Ernie Gravett. They all helped by their good role modeling and caring interest."

Mimi's daughter attended IU and her three sons all graduated from Notre Dame on Navy scholarships. Upon graduation, they served as naval officers. "One was in the air, one was at sea, and one was on land," Mimi proudly states. While they were in service Mimi's motto was "Join the Navy so your Mom can see the world." Mimi traveled to Florida, California and Hawaii to visit them. Scott served a total of eight years and then remained in the reserves. As adults, all are in the business world.

After all her children were on their own, Mimi earned a Doctoral degree at IU. A friend from her classes arranged a blind date with Jim Riffle on November 5, 1996. Two weeks later, Mimi was in a car accident that confined her to bed for a month . "When Jim found out, he came from Columbus and surprised me by bringing a fried chicken lunch. It was a comical way to entertain a date."

A while later, they had their third date at a Washington County Community Foundation Annual Dinner (Mimi was serving on the Board of Directors.) They continued to date on and off but eventually their relationship grew. They were married on November 28, 2002 at St. Agnes Church in Nashville, IN. Ever since, they have been living happily in their retirement home on Grandview Lake. Mimi remains active in several church and community organizations in Columbus.

Mimi reflected upon her decision to create the Lewis Family Scholarship fund through her estate. "I know my kids are all self-sufficient. They participated in making this decision. I just wanted to help some young people get through college. The key to success is education. My immigrant grandparents instilled this belief in me that everyone who is willing to work for an education should have the opportunity. And, I needed to 'pay back' the scholarship I received. My college degree was my key to a fulfilling life."

To future recipients of this scholarship, Mimi advises: "Here is an opportunity. Use it wisely."

Written November, 2012.