George and Pauline Reyman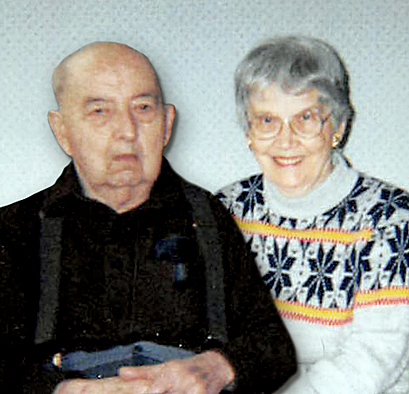 Her other, and only professional work was for Mrs. Blanche Wean, an accountant of Danville. "That was a 2 year part time job. I was glad to have the chance to get to know her. She was the first female to enter IU Business school," Pauline said.
For George and Pauline, their parents have been major influences throughout their lives. "George and I each had truly wonderful parents to observe and follow what we saw and wanted to be like, hoping our children would do the same. I think they would agree. I look at their families and have a very good feeling." She often said to anyone, "If George is speaking, you listen!"
George and Pauline are the parents of four children:
Lewis Mead Reyman CPA, Salem High School (1964) - IU graduate (Class of 1982)
Now retired, he owned an accounting business in Georgetown, Indiana.
DaleAnne Reyman Cantrell, Salem High School (1965) - Purdue graduate (Class of 1970)
Now retired, she was a librarian for 17 years at Brownsburg City Library & Children's Library for 10 years there.
Larry Alan Reyman DVM, Danville High School (1970) - Michigan State (Class of 1980)
Practicing veterinarian at his own clinic in Mooresville, Indiana
Debra Susanne Reyman Martin DVM
Danville High School (1974) - MIT (Class of 1978) - Purdue graduate (Class of 1988)
Worked in Riley's hospital neonatal research for 6 years, Middle East for 23 years, Incirlik AFB Turkey 2017 with the Nicholas Maintenance Contract, and currently a practicing veterinarian in Indianapolis, Indiana.
From 1951 to 1967, the family lived at North Main Street while George worked out of the Seymour office for Indiana Highway Department. From there, George worked out of the States Highway Office in Indianapolis from 1966 to 1985. The family moved to Danville, Indiana, for the last 34 years (1967-2001). Subsequently, George and Pauline moved into the Methodist Retirement facility located in Franklin, Indiana (2001), now called Otterbein Franklin Senior Life Community. It is currently designated a 5-star retirement community.
For Pauline, she has always enjoyed literacy clubs, so after moving to Danville and being asked to move her Tri Kappa membership and to join two of their literary clubs, The Philomathean Society and International Browning Club, she did. Furthermore, she remained active in Beta Tau Tri Kappa and both of the Women's Study Clubs while living in Salem. At the present time, Pauline is a member of the Michael Paul Vandervoort chapter of the National Society of Colonial Dames 17th Century at Salem, Indiana. She originally joined in Ohio in 1987.
Faith has always served as an important factor in their lives. "Wherever we lived, our family were Methodists. "In 2001, I moved George's and my membership back to Salem from Danville," Pauline said.
"George and I still own real estate wholly and with family, here in the area of Salem. Washington County will always be our home," Pauline stated. By starting a fund in their names in the Foundation, George and Pauline hope that they can continue giving to the community for all sorts of projects. Nonetheless, the Reyman's legacy is living on through their generosity to the community they love, for good, forever, in Washington County.