Jess and Barbara Helsel
Jess Helsel Always Knew What It Meant to Work Hard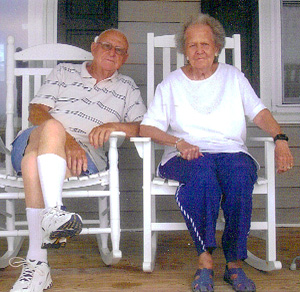 Jess Helsel will be remembered by many as a man with a great sense of humor who liked to laugh. However, to put it simply, Jess Helsel was always a man of hard work. From fighting for our country, to starting international companies, to raising a family, Jess always knew what diligence was. He was and still is a respected, contributing member of Washington County. Thanks to the generosity of Jess and his wife, Barbara, the Helsels' contributions to their county will go on for many years through the Helsel Family Salem Presbyterian Church Capital Project Fund in the Washington County Community Foundation.
Jess Helsel was born in the small town of Canton, Ohio in 1924 and grew up on his family's farm. It was during his high school years that the U.S. joined the fighting of World War II. In the middle of his senior year, Jess made the decision to join the U.S. Marine Corps and fight for our nation. Jess would go on to courageously serve for three years of the war until being honorable discharged in November of 1945 due to injuries. Upon ending his military career, Jess went to work in the powdered metallurgy industry at a plant in Ohio. On March 1, 1947, he and his wife, Barbara Jane Helsel, married. They eventually found their way to Salem, Indiana in 1951 when Jess was given an assignment in Salem by his plant.
Jess and Barbara were married for 63 years and lived in Washington County together for 59 years before her death in 2010 after a long battle with cancer. They owned 170 acres of land, where they raised large numbers of Appaloosa horses. The couple had four children, Leslie, Jessica, Peter, and Holly Beth. Tragically, their daughter Holly Beth passed away at only four years old. Their daughter Leslie, now Leslie Gilstrap, still lives in Salem, and their daughter Jessica, now Jessica Craig, currently resides in Omaha, Nebraska. Their son Peter passed away before Barbara. Jess currently is blessed with eight grandchildren and five great grandchildren.
His first job in the metallurgy industry would only be the beginning of Jess Helsel's career as a very successful businessman. While his opinion of his life may be humble, his remarkable list of career accomplishments and experiences strengthened Washington County and helped it to grow. Six years after taking up residence in Salem, his work grew to the international level by starting a powdered metallurgy plant in Mexico City. Jess also built what would become the GKN Sinter Metals Company in Salem in 1968. He stayed with this plant until 1972 doing international development work. Shortly after, he bought a company in Indianapolis, which he relocated to Campbellsburg in 1976. This company, Helsel, Inc., later became Net Shape Technologies, Inc. If all of this was not enough to keep a man busy, Jess also acquired two more plants in Indiana in 1970, which would eventually be sold to GOULD. Throughout his career, he was able to travel to many countries and do business with people from all over the world.
Jess took action at both the community level and state level. He served as president of the Washington County Economic Growth Partnership for eight years and has been on the board since it formed in 1992. Sabrina Westfall, the administrative assistant at the Economic Growth Partnership, admires Jess for all he has done. "He is a very strong leader, and I have learned so much from him just from being around him," she stated. Also referring to Jess's work with the Economic Growth Partnership, his former pastor Sara Shield felt that he "probably worked more after he retired than he did while he was working, always trying to bring business to Washington County." Besides serving Washington County through the Economic Growth Partnership, he also completed 24 years of service on the Indiana Statewide Certified Development Corporation as well. Besides devoting many years of service in these areas, he also served as a chair on the Indiana Small Businesses Council, two terms on the 8th District Federal Reserve Board, two terms on the Indiana Manufacturers' Association, and as a chairman on the Indiana Ivy Tech State Board of Trustees.
Since moving to Washington County, Jess has been a member of the Salem Presbyterian Church. He will be remembered by the church family for many years through the Helsel Family Salem Presbyterian Church Capital Project Fund. "It is an older building, and there is always work that needs done," Jess stated. Upon seeing this need, he set up the fund to provide support to the church for capital improvement projects.