DEJEAN, Edgar and Elinor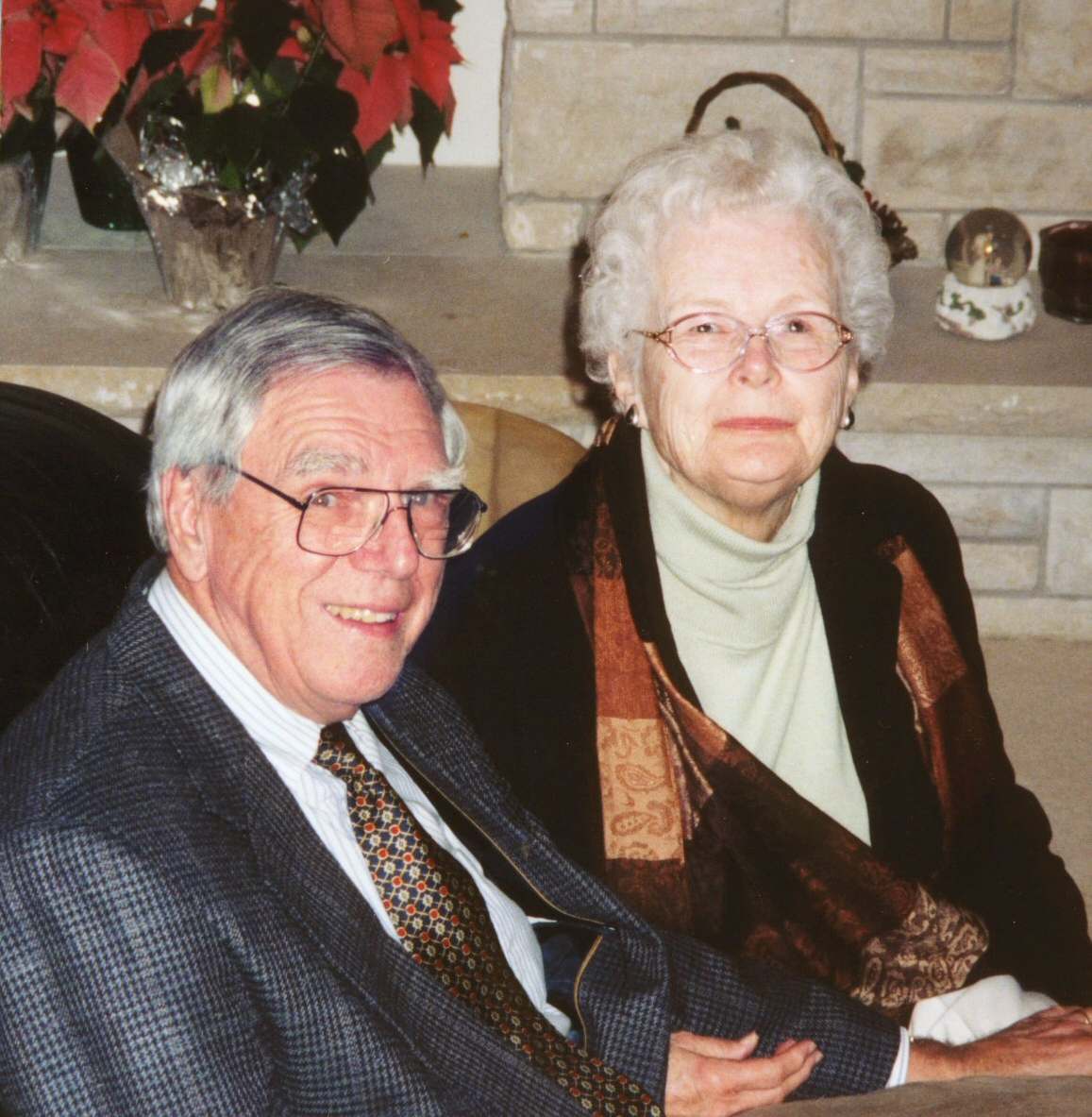 Edgar K. DeJean is a fourth-generation son of Washington County. He was born in 1924 in the New Philadelphia neighborhood of Franklin Township, where his great-grandparents, grandparents, and parents had operated a general store since shortly after the end of the Civil War. (The McClellan-Wiggs-DeJean Store is now part of the Stevens Museum in Salem.)
He grew up on a farm, and went to the one-room school in New Philadelphia, then graduated from Salem-Washington Township High School in 1940. He attended Indiana University and graduated from the dental school in Indianapolis in 1944 with a DDS degree and a commission as a first lieutenant in the U.S. Army, part of an accelerated program to supply medical personnel to the Army during World War II. He was stationed at the Valley Forge Army Hospital during for the next two years.
Released from service, he returned to Salem with his wife Elinor and two small children. The April 17, 1947, front page of The Republican Leader proclaimed: "Salem To Have New Dentist." Dr. DeJean opened his first office over the Salem Dry Goods store on the east side of the Square. His practice grew quickly, and in 1955 he and Dr. Eddie Apple built a shared office building at the corner of West Market and North Harrison streets. He also decided to specialize in Oral and Maxillofacial Surgery and in 1957 began a training program at the University of Louisville's dental school and Louisville General Hospital.
In 1962 he and Dr. Gene Hedrick built a shared office next door at 100 N. Harrison. That same year Dr. DeJean completed his hospital residency and established an oral-surgery practice, something unusual for a town of Salem's size. He compensated by covering a territory that saw him working in hospitals in six adjoining counties -- Washington, Scott, Harrison, Orange, Jackson, and Lawrence -- as well as seeing patients referred from all over Southern Indiana. He continued his association with the U of L School of Dentistry as an adjunct faculty member, teaching classes and counseling the sophomore dental students for many years. At the same time he returned to Indiana University, where he received the advanced Master of Science in Dentistry degree in 1967. His studies included research work on oral cancers that led to a long-time association with the American Cancer Society, writing and speaking against tobacco and smoking.
He has served the community in many ways that continue to benefit Washington County. In two different periods he served a total of 23 years on the Salem-Washington County School Board -- the first, from 1951 to 1966, included the opening of a new high school in 1957, and the acquisition of the land where the current grade school and middle school now stand. He returned to the board from 1998 to 2006, and helped oversee the major remodeling and expansion of the high school. For many years he was a member of the Washington County Parks and Recreation Committee, and he was elected to two terms on the Washington County Council, from 1976 to 1984. He helped establish establish civic-betterment organizations including Awareness Washington County for leadership training, and the Salem Educational Foundation, which benefits the schools. He was named the Washington County Chamber of Commerce's Citizen of the Year in 1970, and in 1988 The Indianapolis Star named him one of 10 statewide Jefferson Award winners, in recognition of his community leadership.
Edgar DeJean has been active in local civic organizations including the Lions Club and the Exchange Club as well as local, national and international professional organizations in dentistry and medicine. He was president of the Indiana Association of Oral Surgeons, and in 1985 was the Indiana Dental Association Dentist of the Year. He was a constant and continuing supporter of the Salem Presbyterian Church for half a century, and worked on resource committees for the regional governing bodies of the denomination.
His second career throughout his adult life has been as a writer -- he has written about dentistry and theology for the general reader, and published three collections of his blogs on personal spirituality. He has had many avocations -- photographer, painter, jewelry maker. One of the most public was his many appearances as Mark Twain, in white wig and white suit, performing the humorous stories and offering the pointed commentary of the great humorist he admires.
Edgar and Elinor DeJean raised six children in Washington County, sending them all to the Salem Community Schools. He retired at age 70 in 1994 and he and Elinor moved to a retirement community in Bloomington in 2006. He continues his lively interest in public affairs and IU sports, and he continues to win accolades: he was named to the Salem schools' Lion Legacy class of 2011, and in 2015 the Salem Education Foundation named a scholarship fund in his honor, the Edgar DeJean Dream Award.
Elinor Warren DeJean was born in Rockville Center, New York, in 1922, the daughter of George Silliman, a physician, and Anne (McConnell) Silliman, and grew up in New York, Virginia, and Indiana. She graduated from the Brazil, Indiana, High School in 1940 and attended Indiana University, intending to be an elementary school teacher. There she was a roommate of Julia Thixton of Salem and met Julia's high school classmate Edgar DeJean. Elinor and Edgar were married when he graduated from the IU dental school in 1944, during World War II, and at the end of his military service in 1947 they moved to Salem.
For the next two decades, as the family grew to six children, Elinor DeJean was a busy homemaker. She was an active member of the Presbyterian Church, teaching in its Sunday School and Vacation Bible School , and singing in the choir. She led Cub Scouts and drove children to Brownies and Girl Scouts, 4H meetings and school activities, not only her own children, but children's' friends, who claimed her as a second mother.
As soon as all her children were in school she went back to school herself, graduated from Indiana University in 1967, and became the teacher she had set out to be. She taught in the elementary grades of the Salem and West Washington schools for several years, and went on to earn a Master's degree from IU.
She was a long-time member of many community organizations, especially the Tri Kappa sorority and PEO, and volunteered for institutions and programs including the Washington County Hospital, the Friends of the Library, and adult literacy training.
Elinor DeJean loved reading, and participated in book clubs and discussion groups. She was a flower gardener and later in her life she created a large doll collection. She loved children, and she expanded her circle of love and care as her family grew to encompass grandchildren and great-grandchildren and new generations of children of relatives and friends.
Elinor DeJean died August 21, 2015, and a fund was established in her memory with the Washington County Foundation.