John and Ginger Morris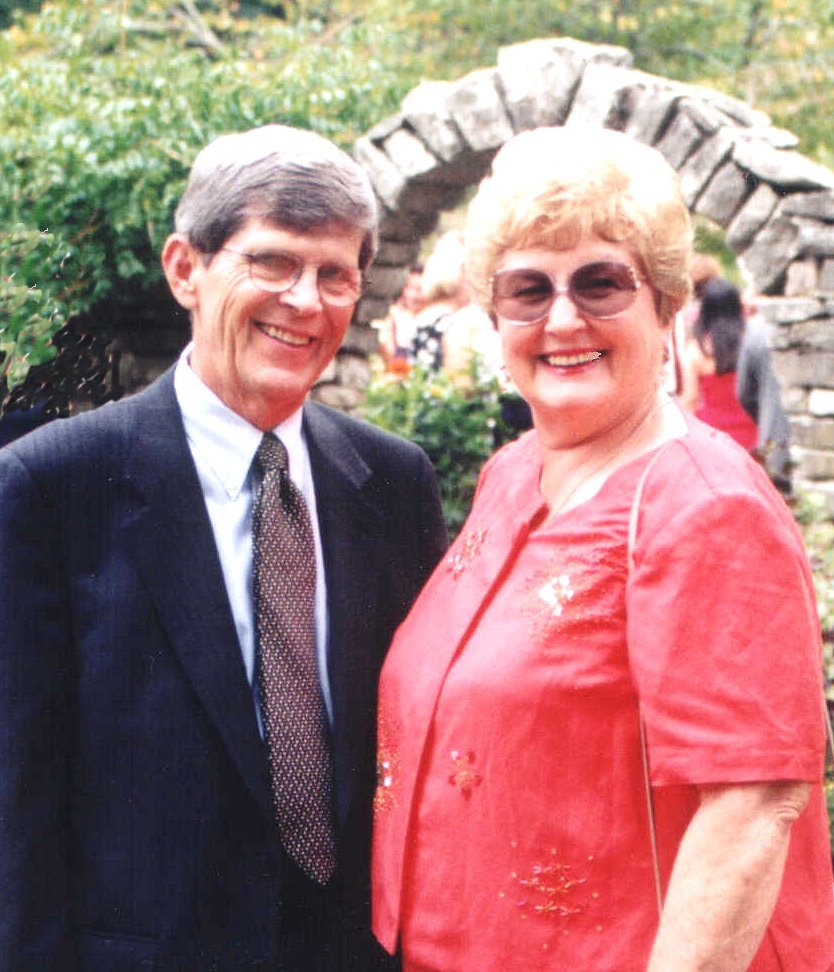 Herschel C. and Edna R. Baker welcomed their only child, Ginger, into the world on December 5, 1936. Ginger was born in Louisville, KY. "Mom was a teacher and Dad was a superintendent," recalled Ginger. "When I was 3, we moved to Pekin, where Dad was superintendent for 25 years. He took them through the consolidation. Mom taught home economics." Ginger started school at the age of 5 and skipped a grade. She attended Pekin grade school and high school and graduated in 1952 at the age of 16.
"Pekin was small," remembered Ginger. "Everyone knew everyone. I was in a group of seven girls, including MarjiAnn Souder and Carmelita Jean, and we called ourselves the Owl Club. Our purpose was to meet and eat. We would meet in a barn or by an old tree so we could hoot! We loved to get together to sing, play and eat." While growing up, Ginger was active in 4-H, Girl Scouts, and Junior Leaders. "I got to meet a lot of girls from Salem through these organizations."
When it was time to go to college, Ginger had no idea what her future would hold.
"I didn't know what I wanted to study in college," Ginger said. "I started at Purdue and stayed one week. I hated it! Then I transferred to IU (Bloomington). I started in pre-med but I didn't like chemistry, so I switched to business and then education. I graduated in 1957 with a degree in education."
After college, Ginger went to Indianapolis to work at William H. Block, a large retail chain. She lived in a house with several Delta Zeta sorority sisters. While home one weekend, she went to Herman Childers 21st birthday party. "That is where I met John. He ended up taking me home from the party. We dated a while, broke up, and got back together when he graduated from college."
Just months after that meeting, the two changed their lives forever.
"On Labor Day weekend, Tom Bellows came to my house to measure my finger. I knew something was up. John proposed and we were married six weeks later on October 23, 1957." John and Ginger have two children, Michael and Christopher. They also have seven grandchildren: Michael, Zachary, Cameron, Alexander, Stephanie, Katie and Benjamin.
On August 21, 1935, B.W. (Cotton) and Irene (Bush) Morris welcomed their only son, John, into the world. "Dad owned a filling station at the corner of 56 and 135. It was very successful. Because of his business, everyone knew him and me. No matter where I went, people knew me and my pet chicken. It followed me all around town!"
Growing up in Salem during WWII had a tremendous impact on John. "Salem was very patriotic," recalled John. "The town was very close. I was part of a group of boys that were Junior Airplane Spotters. We would climb a high hill and watch for planes. Anytime we saw something out of the ordinary, a courier would ride his bike and report to HG (Police Station.) Sometimes, I think they flew planes over just to check on us to see if we were really paying attention. But we took our responsibility very seriously. I remember one day a very strange looking plane approached us. One of the boys in our group saw it and I can still remember hearing the fear in his voice as he said, 'My God. What is that?' Turned out to be one of ours!"
Gas was one of many items that were rationed during the war. "I remember that Dad would always hold a few gallons of gas back for soldiers who were home visiting on leave. Whenever they came home, he would give them a few gallons so that they could get around. He always took their picture and then hung it on the wall. He had a lot of pictures."
WWII also impacted John in other ways. His neighbor, friend and mentor, Sam Mitchell, was killed in the war. "Sam was a true definition of a friend. As long as I live, Sam will never die."
John graduated in 1953 from Salem High School. "I went to Phillips University in Enid, Oklahoma. My major was religion, but I got so homesick. I transferred to Butler where I studied religion and engineering." After college, John was drafted. Initially, his primary duties were in combat; however, the Army discovered his musical talent, and he was transferred to the Army Band, where he played the French horn. He served at several military bases in the United States. "Everyone in the band was a draftee. About 15 percent were artistic and frankly, a little nuts!"
John came home in 1960 and worked at Morris Oil until it was sold. After that, he worked for an Agri/Chemical company and eventually worked for 3M in real estate acquisition. Eventually he and Ginger (after teaching for over 40 years in the Salem School Corporation) obtained their real estate licenses and they both now sell real estate.
Ginger did a lot of volunteer work in her retirement. She could be found volunteering at the St. Vincent-Salem Hospital, the Washington County Food Bank and The Depot Train Museum. She spent 24 years serving on the Salem City Council and 16 years on the Salem Public Library board. She was also active in Delta Kappa Gamma and PEO. She was a 50-year member of the Daughters of the American Revolution. John is a member of the Salem Masonic Lodge. The couple were members of the Salem Presbyterian Church since 1964. Sadly, Ginger passed in September of 2020.
After living most of their lives in Salem, John and Ginger decided to start a fund in the Washington County Community Foundation. "I was in on the beginnings of the Foundation," said Ginger. "I remember thinking that a million dollars was a lot of money – but it was such a great idea! We (she and John) started a Touch Tomorrow fund with no specifications so that the Foundation can use the money as they see fit. We wanted to help them (the Foundation) long into the future and help keep it going."
Ginger was a firm believer in the WCCF and what it can do for the county. She said getting the Foundation up and running "took the right time, with the right people and a whole lot of luck. It's the greatest thing for the county that could possibly be done!