John and Mary Mead
John W. Mead Has Always Been a Man of Many Colors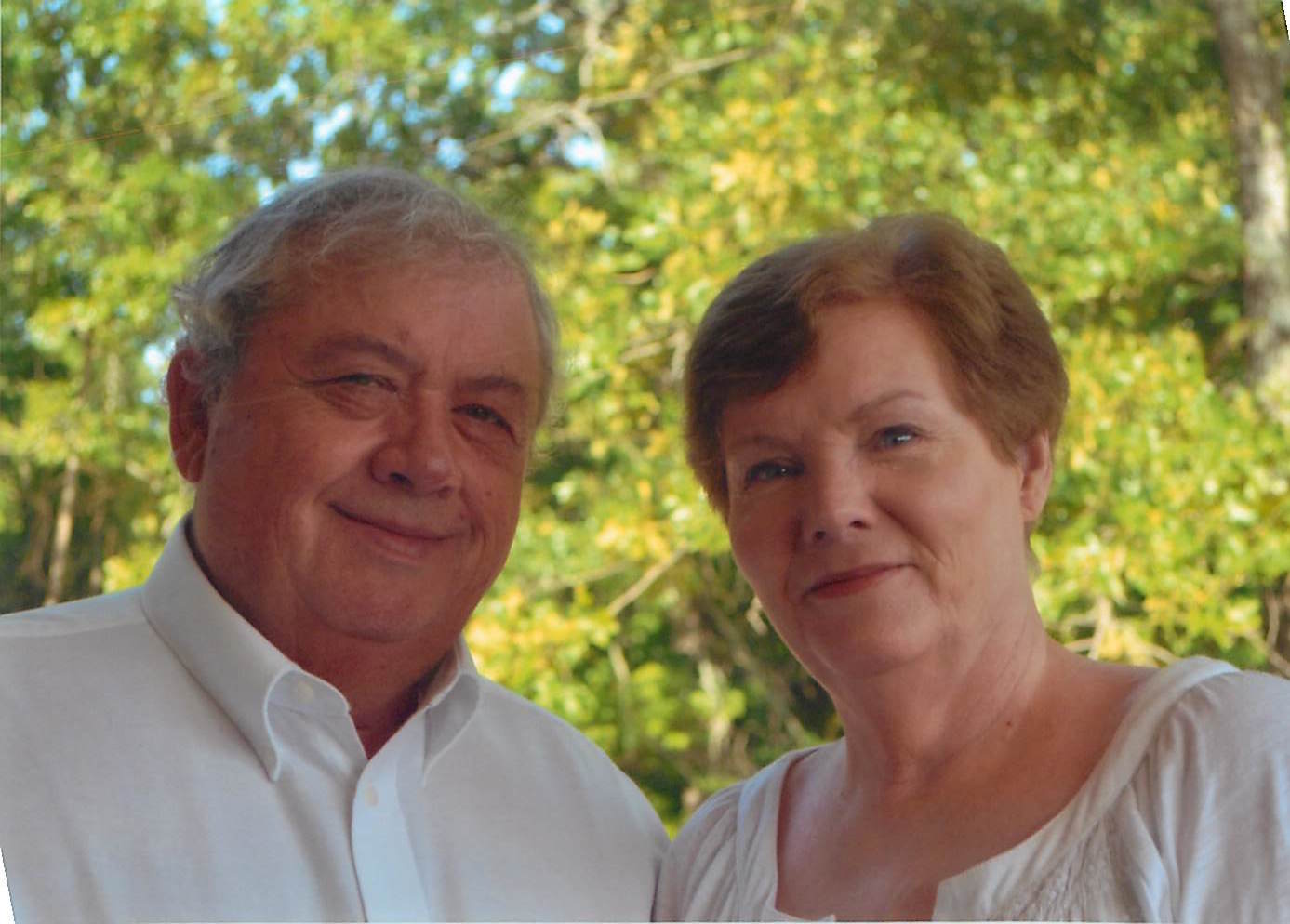 While some people focus a great deal of attention on one area of their life and one area only, others take interest in many different aspects of their life and in many different hobbies. John Mead is definitely one of those individuals who have found enjoyment in life through many different things. He is truly a man of many colors.
John Mead is the son of Willis and Helen Kiefer Mead, who both had ancestral roots in Washington County. While he grew up in Salem, Washington County, he was actually born many states away, in Carmel, California in 1945, and spent the first 17 days of his life there. At the time of his birth, his father was serving our nation in the U.S. Army, stationed at Fort Ord, California, and training to invade Japan before the bombing of Hiroshima and Nagasaki brought World War II to an end. Willis had returned to the U.S. in January of 1945 from the islands of the South Pacific and the jungles of Burma. Because of Willis's extended period of active duty, he was discharged shortly after the Japanese surrender. Willis and Helen then returned to Washington County with their young son. Willis returned to the practice of law with his father, Walter, who began practicing law in Salem in 1912. Eventually, the Mead family grew to six with the births of siblings Jim, Joan, and then Jerry.
The four Mead children were raised in Salem and attended the Salem Community Schools. John graduated from Salem High School in 1963. It was the summer after his graduation that he met Mary Boling while he worked as a lifeguard at the Salem pool. Mary is the daughter of Alfred and Stella Boling. Mary was also a student at Salem High School, graduating in 1965. The two began dating and eventually married in 1966, while both attending Indiana University. John received his bachelor's degree in 1967 from Indiana University and then his Doctorate of Jurisprudence in 1970. He was admitted to the bar before the Indiana Supreme Court in September of 1970. He has also been admitted to practice before the United States District Court, Southern District of Indiana (1970), Northern District of Indiana (1999), and United States Tax Court (1987). He has served on the Indiana Supreme Court Character and Fitness Committee since 1988.
After graduation from law school, John and Mary and their family returned to Salem, where he joined his father and grandfather in the law practice. At that time, they became the only three-generation practicing law firm in the state. However, he had not been home long when he answered our nation's call and entered active duty in January of 1971 with the U.S. Army. While attending Indiana University, John was a member of the U.S Army ROTC Corps and was commissioned as a 2nd Lieutenant in June of 1967. He was on active duty at Fort Benning, Georgia, until July of that year, when he was released from active duty and returned home and joined the Indiana Army National Guard, Co. C, 1/151 Inf. at Salem to complete his military service commitment. He remained in the Indiana National Guard until 1979, serving as Company Commander of Co. C, 1/151 Inf. from 1976 to 1978. While Company Commander, the Salem unit received the prestigious Eisenhower Trophy as the best National Guard unit in the State of Indiana.
Shortly after John and family returned from Fort Benning, he resumed his legal career once again, practicing with his grandfather, Walter, until his retirement in 1975, and his father, Willis, until his retirement in 1986. June of 2012 marked the 100th year that the Mead family has been practicing law in Salem. Mary, in addition to being a wife and mother, opened her own small business, Kid's Kloset. After closing the Kid's Kloset, Mary went back to college and completed her Bachelor's degree in General Studies with double majors in Psychology/Sociology and a minor in History. Following graduation, she worked in Salem for many years in the social services field, including the At-Risk program with Salem Middle School and as a Case Manager for LifeSpring Mental Health Services. After leaving LifeSpring she became a Family and Nutrition Program Assistant with Purdue University at the Washington County Extension Office. She retired in 2012.
Since 1971, John has pursued his profession in Salem, engaging in the general practice of law. He has provided legal services to his clients in Washington and surrounding counties for over 40 years, concentrating his efforts in the fields of real estate, probate, estate planning, civil and criminal litigation, personal injury and disability. Professionally, John is a member of the American Inns of Court and the Indiana State Bar Association and a former member of the American Bar Association and the Association for Law and Justice. He was the prosecuting attorney in Washington County from 1972 to 1974 and from 1983 to 1990. He served on the Board of the Indiana Prosecuting Attorneys Association during his years as Prosecutor. He has been the lead attorney in numerous murder trials and was one of the lead prosecutors in the statewide Chemscam investigation and prosecutions in 1982 – 1985. He convicted the former mayor of Seymour, Indiana of bribery in 1983.
John and Mary have three children, Sean, Angela, and Heather, all of whom attended Salem Community Schools and graduated from Salem High School and Indiana University. Sean went on to follow in his father's footsteps and receive a law degree from Indiana University. He now lives in Dayton, Ohio and is the Director of Analytics for Interbrand, an international company. He also is Of Counsel to his father's firm, Mead, Mead, and Clark, P.C. Angela resides in Salem and works as the Risk and Accreditation Manager for Floyd Memorial Hospital, New Albany. She has a son, Jordan dosSantos, and a daughter, Cassie Bane. Heather now resides in Fort Worth, Texas with her husband, Mark Jordan, and two children, Sidney and Reagan, and works as a disaster loan analyst for the U.S. Small Business Administration.
Although their children live in more culturally diverse places now, that was not the case as they were growing up. Yet, it was important to John and Mary that their children have the opportunity to experience diversity and other cultures when they were young. In order to accomplish this, the Mead family hosted numerous foreign exchange students throughout the years. Mary said that they had students come from all across the globe, including Australia, Germany, India, Brazil, Finland, Japan and the Philippines. Usually the students lived in their home for about a three-month span. Mary remembered one student, in particular, who came from the Philippines. "Jun was very shy," she recalled. When he arrived, they were puzzled because he seemed very concerned that there were no walls around the houses to "keep the bandits out." Mary said that it was very rewarding to watch him make such progress as he grew closer to their family and the community. "I don't think he wanted to leave." Two of the three children also participated in the Rotary Youth Exchange Program. Sean lived in Finland for a year and Angie in Brazil for a year while in high school year.
John finds enjoyment through a wide variety of other activities, engagements, and hobbies. He has never limited himself from exploring new ideas. He has also used his many interests and his desire to serve others to benefit Washington County in numerous ways. "It is important to give of your talents, time, and skills for your community's improvement and betterment," John says. He has definitely made a commitment to doing this.
John has been a member of the Salem Rotary Club since 1971, when he returned from active duty with the U.S. Army. Mary also participated in the Rotary Club, alongside her husband. He has held many offices in the Rotary Club, including serving as the district governor from 1983 to 1984. He has also been a member of the Washington County Historical Society for many years, using his love for history and genealogy to serve his community. John has served on many other boards, including LifeSpring (of which he was president for two years) and the Washington County Community Foundation for 10 years (from 1997 to 2007).
John is known by many individuals in Washington County for his service as the president of the Washington County Veterans' Memorial, Inc. The veterans' memorial is located on the Salem town square and was dedicated in 2000. John began working on the memorial project in the mid-1990s when his friend Danny Newby approached him. Danny had a classmate, Jerry Sabens, who had been killed during his service in Vietnam. On a trip to Kentucky, Danny noticed that Jerry had been honored on a veterans' memorial in a town where he had family ties. This made him wonder why there was not anything in Salem to honor Washington County's men and women who had bravely served our nation and given their lives in its defense to protect our freedoms.
John helped organize a group of veterans and citizens to begin planning the memorial project. After fundraising, creating a design, and receiving a Lilly grant for the project, the veterans' memorial was dedicated in 2000. Former Indiana Governor Edgar Whitcomb, a World War II veteran, was the keynote speaker. Since then, John has also been on a quest to find cannons to replace the Civil War cannons that sat on the pedestals on the south lawn of the courthouse until World War II. His search has become somewhat of a hobby for him, taking him all the way to New York City to view Rodman Cannons that are located in Fort Jay on Governor's Island. He hopes to one day find a Rodman cannon that can be placed on the square, in recognition that the inventor of these cannons, Civil War General Thomas Jackson Rodman, was born in Washington County.
John also has many other interesting hobbies and talents. Thanks to a childhood pastime, he now has developed a knowledge that very few people can claim: mushroom identification. John grew up hunting mushrooms with his father and grandfather. He always had an interest in knowing about the different types he was seeing and was quizzical about whether or not they were edible. Years down the road, he concentrated on studying how to identify mushrooms. Thanks to his studies, he now is an expert in the field. As a member of the American Mycological Society, he shares his knowledge locally presenting programs to community groups, and serves as a consultant on the identification of mushrooms for the Indiana Poison Center.
He and his wife enjoy traveling together. John has now visited every state in the U.S., as well as Australia, New Zealand, Bermuda, Canada, Mexico, and the Bahamas.
However, John and Mary have stayed loyal to Washington County. While serving on the board of directors for the Washington County Community Foundation, he and his wife made the decision to start a fund to give back to the community. "It is important to have a mechanism to give back to the community," he states. "This community is our roots. It is important to do what we can to see that this community grows and is a good place to raise a family and to pursue a livelihood … I wouldn't trade living and working in a small community for greater fame or fortune." In order to give back to others in his community, they began the John W. and Mary B. Mead fund in January of 2005.