Whiskey Wilson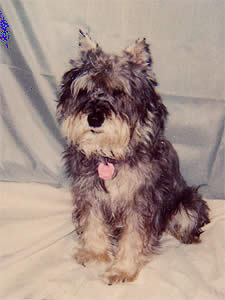 People who have had the opportunity to have a special relationship with a pet are truly fortunate. Pets can brighten even the gloomiest day and seem to be able to sense when their master needs a lift. Such was the case with Whiskey Wilson, a spirited German Schnauzer. Before being adopted by Donovan and Jean Wilson, Whiskey was residing at the Humane Society. It didn't take long for Jean and Donovan to realize that Whiskey would be a very special member of their family. "Whiskey taught us the silent communication of love," said Jean. "Like most pets, his love was unconditional and he was always there for us."
Many Salem residents will remember seeing Whiskey walking his master, Donovan, around town. As Whiskey got older, arthritis set in, making the walks difficult. So Donovan built a special wagon with a sling that allowed Whiskey to continue their walks. Although his days of chasing ducks at Lake Salinda were over, he was still able to enjoy his daily walk with Donovan up until his death.
"I never wanted an animal in the house," commented Jean. "But Whiskey changed my mind the first night. He was such a character and brought so much happiness into our lives." Whiskey was also a well-traveled Schnauzer. His traveling escapades ranged from Florida to Massachusetts to Montana. And everywhere that he went, he was sure to make new friends. So much so, that when Whiskey died, cards and memorials were received from all over the country. This prompted Jean and Donovan to take action.
"We decided to set up a fund through the Washington County Community Foundation to benefit the Humane Society," stated Jean. "We really appreciated the way that they took care of Whiskey before we adopted him, and we wanted to make a donation that would benefit the Humane Society forever. So we encouraged all of Whiskey's friends to send the memorials to the Foundation. It is amazing how memorials as small as $10.00 to $20.00 can add up. Now every year, forever, the Humane Society will receive funds from the Foundation. I think it is important for a community to take care of its animals, as well as its people."
"I was surprised because this was the first account the Foundation had received in honor of a pet," acknowledged Jack Mahuron, Executive Director of the Washington County Community Foundation. "However, in thinking about how much I have loved my pets in the past, I think that this was a very commendable thing for Jean and Donovan to have done. We are proud of them for thinking about the Foundation and the memorial to Whiskey."
The Washington County Community Foundation is a vehicle for people of all means to make a lasting difference in their community. The central purpose of the Foundation is to serve the needs and philanthropic aims of donors who wish to better their community, now and in the future. Donors may establish a fund in their own name or in the name of a loved one. Hence, the Whiskey Wilson Humane Society Fund was established with the Foundation. Its current assets are slightly under $5,000.00. "It is gratifying to know that this fund is permanent and will always be available to help other animals in Washington County. Anyone can make a gift in honor of their pet to this fund," stated Jean.
"We are all individuals, and as such, we all have our own favorite charities," stated David Beck, President of the Foundation. "One of the great things about the Foundation is that it can be so flexible in meeting the desires of the donors. Donors may establish funds with the Foundation and their charitable intentions will be honored in perpetuity. The Whiskey Wilson Humane Society Fund is a terrific example of how the Foundation can help residents of Washington County make donations to their favorite charity or non-profit organization, now and in the future."