Veryle Audrey Mounts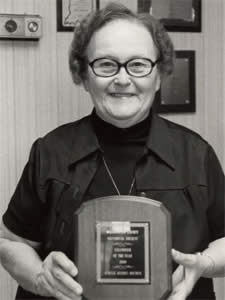 Her life was turned upside down when her father died. She went to the bank with her mother, only to learn that the bank had failed. There was no money to live on, let alone attend college. Her dreams were evaporating before her eyes.
Events such as these change people and shape the paths that their lives will take. Such was the case with Veryle Audrey Mounts. She lived in the New Philadelphia area as a child and graduated from Salem High School in 1936. The death of her father created great hardship for her and her mother. It looked as if Audrey would not be able to go to college, but she overcame these hardships and through hard work and perseverance, she graduated from Indiana University in 1940.
Audrey borrowed money to attend college and she also worked a part time job. "She sent money home to her mother while she was at IU," commented Jo Barnett, friend and co-executor of Audrey's estate. "She wrote her mother everyday while she was away at school. Her mother saved all the letters and Audrey had them all stored in a box when she died."
After graduating form Indiana University, Audrey taught in Northern Indiana and at Ben Davis High School in Indianapolis. She eventually accepted a teaching position at West Washington High School, and taught English there until she retired.
"Her students meant a great deal to her," stated Barnett. "She received Christmas cards and birth announcements from them over the years and saved all of them. She also saved the small, wallet sized school pictures of her students. I think that Audrey loved her students. She wanted everyone to go to college and not have to struggle as she did. She also wanted them to learn to give back. Audrey sacrificed a lot throughout her life to save her money, and then, in the end she gave it all away to help others go to college."
Although she was "Dedicated to education," as described by Dr. Edgar DeJean, former classmate, Audrey had other interests as well. "She was an avid collector of glassware and china. She loved antiques."
"Audrey was an enthusiastic gardener," remembered Jeanette Hart, next-door neighbor to Audrey. "She had a variety of flowers."
"She would work all day in her garden," recalled Barnett. "She gave many people 'starts' off of her plants and flowers."
Audrey was also very interested in history. After her retirement, she volunteered many hours at the Stevens Museum. She was especially interested in genealogy. She was a member of the Historical Society and she was also a member of the DAR. "She had beautiful handwriting," recalled Hart. "She would prepare the award certificates for the DAR Good Citizenship award."
Audrey was a "saver." The difficult times she experienced while growing up taught her to save for "hard times." Her house was full of items she had collected over the years; newspaper clippings, cards and letters, school pictures, antiques and even her father's army coat was found lovingly packed away.
We never know how our lives will touch another or how our paths will cross with another person. A few years before her death, Audrey presented Ranessa Cooper with the DAR essay contest award. Ranessa was in the eighth grade at the time. Upon graduation from Salem High School in 1993, Ranessa received an interest free loan from the Audrey Mounts Loan Program. "It had a huge impact on my life and my education," stated Ranessa. "I made my way through school with scholarships, loans and work-study programs. The money I received from the Audrey Mounts Program was an important source of funding for my education. I remember it was $1,325.00 per year and I was able to stretch that a long way."
Ranessa graduated from Truman State University in Kirksville, Missouri with both BS and BA degrees in Biology. She then went to Canada to study at the University of Alberta in Edmonton, Alberta. There, she received a Ph.D. in plant biology and is currently Assistant Professor of Biology at the University of Tennessee at Martin.
Like Ranessa Cooper, over 75 other Washington County residents have received interest free loans from the Audrey Mounts program. "On honors day I received a lot of scholarships," remembered Cooper. "I decided then that I wanted to give back to other students the way that Audrey did. Someday, I would like to establish a scholarship fund. It meant so much to me to have this type of financial assistance and I want to help future students in return."
Through Ranessa, and many others like her, Audrey Mounts' dream to help others attend college and teach them to give back to their community will live on. In 1999, the Audrey Mounts Loan Program was transferred to the Washington County Community Foundation where it became the Audrey Mounts Scholarship Fund. Every year this fund, which exceeds $425,000.00, will give scholarships to Washington County High School students. Because this fund is endowed with the Foundation, it will be able to honor Audrey's dreams and help students go to college year after year, FOREVER.