Robert and Clarice Morris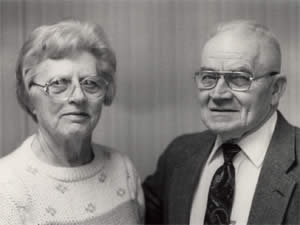 Foresight And Generosity Can Leave A Lasting Legacy
Washington County Community Foundation is fortunate to have many generous benefactors. Without such individuals with the foresight to invest in Washington County, our Foundation would not exist.
One such couple is Robert and Clarice Morris. Robert and Clarice are both natives of Washington County. Robert was born in Gibson Township, the son of the late Emory and Leona Gross Morris. He graduated from Salem High School in 1933. Clarice was born in Pierce Township, the daughter of the late Emerson and Maude Wilson Martin. She graduated form Pekin High School in 1935. Robert and Clarice were married in 1941. Clarice passed away in November, 2002.
Robert worked several jobs after high school and served in the military for four years. Fifteen years after his high school graduation, Robert went to college and earned a bachelor's degree in industrial arts and later a master's degree in vocational education from Indiana State University at Terre Haute. He taught at Jeffersonville High School for 28 years and retired in 1979.
Clarice also attended Indiana State University. She held local teaching positions as well as teaching in Terre Haute (while Robert attended college), New Albany and then finally transferring to Jeffersonville, where she taught until her retirement in 1979.
In 1994, Robert and Clarice decided to give back to Washington County in a big way. They auctioned a farm and two residences and placed all the proceeds from the sale into a charitable remainder trust. By placing these properties in a charitable remainder trust, the Morrises did not have to pay any capital gains tax on the sale, received future tax credits, and will receive income from the trust for the rest of their lives. Establishing a charitable remainder trust is a creative way to donate to a charity and still retain the income from the assets. Jack Mahuron, former Executive Director of the Washington County Community Foundation commented, "Bob and Clarice Morris are two of the most community minded people that I have known. They worked in their church, and served on the library board. They were active in the Washington County Historical Society, and helped with children. They never sat back and let someone else do it. The Morrises were always available for assistance when funds were needed. They were the first to open a charitable remainder trust and were very instrumental in helping our Foundation get its feet off of the ground. They are to be commended for their service to our community."
Robert and Clarice identified the three area high schools, the John Hay Center, Blue River Friends Cemetery, Hicksite Cemetery, Mt. Washington Cemetery, and Little York Cemetery to be recipients of their CRT. Once payments begin, they will be made to these groups on an annual basis, forever.
This is a beautiful example of how our Foundation is able to spread its arms into the past and the future. The Foundation is able to reach into the past and honor those who went before us when donors identify cemeteries, historical landmarks, museums, and historical organizations to be recipients of their generosity. We are able to reach into the future when donors establish scholarship funds, donate to our unrestricted fund, or identify organizations or charities to receive future donations.
Robert and Clarice also donated generously to the Steven's Museum Fund, the War Memorial Fund, and the fund for the First Christian Church. Because these funds are endowed, they will continue to give in perpetuity. David Beck, a former President of the Washington County Community Foundation, commented about the generous nature of the Morrises. "Robert and Clarice's love for Washington County and their desire to 'give back' to the community in which they were involved is a hallmark example of why our foundation exists. We want to be there to assist people who wish to do good, who want to improve the quality of life in our community. It was an honor to work with Robert and Clarice and see the care they had for our county create opportunities to help others."
Thanks to Robert and Clarice's vision and generosity, they will always be remembered by Washington County residents as two philanthropists who invested in the future, and the past, of Washington County.