Ronnie and Deb Mays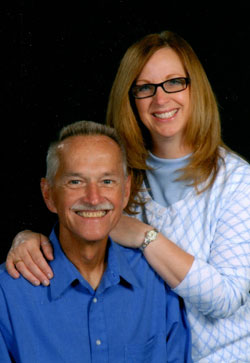 "He was always smiling that amazing Ronnie Mays smile." For Debbie Mays, these words sum up the incredible attitude that her late husband possessed up until his very last breath. Everyone who knew Ronnie, knew that smile. However, what might be even more memorable about him was the strength and the faith that he carried with him at all times. While many people who are diagnosed with a terminal disease allow it to rob them of their hope, Ronnie made the choice to fight. He made the choice to live each day to the fullest and to place his complete faith in God. Without a doubt, we all have a great deal we could learn from Ronnie.
Ronald Mays was born to Gerald and Marilyn Shrum Mays on July 10, 1948. He grew up in Salem with his two sisters, Patricia Mays Bowling, Teresa Mays, and his brother, Brian. Ronnie was always an active boy, eventually using his athletic ability to become a Lion on the Salem football team. He played football all through high school before graduating in 1966.
Ronnie had a self-drive and determination that served him well. After graduating from high school, he began working in tool and die manufacturing. In addition, he began another wonderful adventure: becoming the father of his two children, Ron, Jr. and Kelly Mays Mollet, also of Salem.
Throughout Ronnie's career, he continued to gain knowledge about every aspect of the profession. His intelligence and his work ethic eventually led him to become an engineer at Holm Industries in Scottsburg, where he designed and built dies for extruding plastics. Ronnie proudly served his company for 30 years as a skilled engineer.
In November 1994, he married his wife Debbie and added two step children, Justin and Kali, to his life.
Deb was born to Harold and Mary (Dye) Howard. Unlike Ronnie, Deb did not grow up in Washington County. She was born in Lafayette, Indiana. Growing up, Deb says that her family "seemed to take and not give back" to their community. While she and her two brothers always had a roof over their head and food to eat, the truly important things were missing during that time of their life. Deb said, "I knew I could have more if I did more than just lived day to day in existence."
Throughout adulthood, Deb always remembered that goal she had set for herself – to live and not just exist. When she met Ronnie, fulfilling that promise became even easier. Ron always enjoyed spending much of his time outdoors when he was away from work. He was an avid golfer, competitive shooter, active in softball leagues, and enjoyed fly fishing and clogging any chance he got. So, Deb did not waste any time and quickly got involved with the exciting life Ronnie lead. They grew closer together by doing different activities as a team. Clogging became a treasured past-time for the two of them. They travelled together, doing shows and competitions. They were not just living, they were making precious memories.
Their lives took an unexpected turn in early 2005 when Ronnie was diagnosed with terminal stage-four kidney cancer. For a man in otherwise good health, the devastating diagnosis came as a complete shock. He, Deb and their family suddenly had to face the fact that Ronnie's time was limited. As with any victim of cancer, he also had to make a choice… How would he live the years that he had left on this earth?
From the very beginning of his illness, Ronnie chose to have joy in the midst of his circumstances. Despite the flood of emotions Deb was experiencing, she never wavered in her support for him, either. She continued to constantly see the silver lining. However, they both realized that this battle was not one that they could fight on their own. But instead of turning to fear and sadness, they turned to God. It was at this time that Ronnie and Debbie knew they needed to find a church that could lead them to God. They also needed to find a church family that could support them and their family.
They began attending Mt. Tabor Christian Church and quickly became involved. It was during the years following Ronnie's diagnosis that their relationship with God blossomed. Prior to cancer, Debbie said, "We knew God was there, but we didn't let Him work in and through us." The shocking news of cancer was the catalyst that transitioned them from having luke warm faith to full assurance that God would be their hope in the midst of darkness. Looking back, Debbie knows that they could not have made it without the peace that God provides.
In addition to cultivating a new love for God, Ronnie placed an even greater emphasis than before on time with family. He cherished every minute spent with loved ones and was strengthening his relationship with them daily as time progressed. He and Deb spent lots of time with their six grandchildren and three great grandchildren. He also took the chance to spend more time doing things he loved. He and Debbie bought a pontoon boat so they could take their family out for fun days relaxing on the lake. They also spent many fun and memorable days at Paoli Peaks, skiing on the slopes.
Ronnie went through many years of harsh treatments, exhausting various forms. Early on, he went through surgery to remove his kidney and a tumor that had formed in his heart. Several years later, cancer took his right leg. Learning to function with a prosthesis was not an easy adjustment. Ronnie had to let go of some things that he had enjoyed for many years, including many of his duties as a volunteer police officer and his love of motorcycles. Even this would not get him down, though. He continued to stay active with Relay for Life and the local Cancer Crusaders, which he and Debbie became involved in shortly after his diagnosis. Most of all, he continued to set an example of faith and perseverance that will be remembered by so many. "He is my hero," stated Deb.
As Ronnie's cancer progressed, he slowly began to have to give up more things. His family also had to make sacrifices, fighting the battle right alongside him. But without a doubt, they have so many happy stories they can share about him and the fight. Deb says, "Every day we received huge blessings. The people we came in contact with were such a blessing."
Ronnie's time on this earth came to an end on February 21, 2012. While this was a trying time for Deb, she did not lose her love for life. During the years of struggling with cancer, she had a phrase stenciled on her dining room wall: "God doesn't give us what we can handle; God helps us handle what we are given." Even more so than before, this became her life's motto.
Now, Deb keeps herself busy with her work at Allen & Johnson, LLC Law Office in Salem. She started working for the firm in 1989 as a Receptionist, and has recently been promoted to Office Manager. She says that her time there has turned co-workers into "forever friends", for which she is eternally grateful.
She also finds much happiness in spending time with her grandchildren that are both local and states away. She says that experiencing a life with cancer showed her that family really is "a most valuable asset." Her grandchildren are her joy and she hopes that they will know that her love for them is for a lifetime. She says, "I know they will miss me hugging and kissing all over them!"
While Deb attributes many of her positive qualities to the influence of inspiring mentors and friends such as Mina Collier (her former mother-in-law) and co-worker Reba Brown, anyone that meets her is undoubtedly blessed. Deb's positivity and joyfulness radiate from her, bringing light to each life that she comes in contact with. After all, only a person of genuinely admirable character can proclaim that "cancer was such a true blessing."
Although Ronnie's battle with cancer came to an end, his legacy did not. His smile, his love, and his desire to serve will not be forgotten. In honor of Ronnie, his wife Debbie established a Touch Tomorrow Fund with the Washington County Community Foundation, a fund that will keep his legacy alive for many years to come. "I want him to touch tomorrow," said Debbie. She and all of his family want him to be able to leave a wonderful legacy behind. Thanks to their generosity, his Touch Tomorrow Fund will help to bring a smile to many faces in the future.