William O. MArtin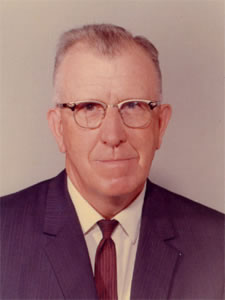 The words "All for one and one for all" conjure up images in all our minds. For most of us, these words bring to mind swashbuckling heroes and great literature. For those living in the eastern portion of our county, they may also inspire memories of high school and perhaps certain athletic competitions. But for one family, these words will forever bring to mind the inspirational man responsible for bringing that slogan to Eastern High School.
William O. Martin was born in Pierce Township January 29, 1904. At the age of fourteen, after learning that he would be required to pay rent to continue living at home, he moved in with his sister, Edna, who was thirteen years older and had no children. He stayed with Edna until he graduated from Pekin High School in 1922. One of William's desires was to become a teacher. At that time, in the State of Indiana, seniors were allowed to take a test, which, if they passed it and attended college during the summer, they could obtain a license to teach grades one through eight. William took the test and at a student convocation, Superintendent Arthur Fisher announced that William O. Martin had passed the test. An eighth grade girl sitting with the rest of the student body, Elizabeth Hoyt, thought, "Hmm, it must be nice to be smart." Ten years later, she married that "smart fella."
William O. Martin managed to find money to attend Central Normal College in Danville, Indiana the summer of 1922. At the end of the summer he found himself with insufficient funds to return home. He worked a few weeks pushing cement in a wheel barrel and lived on cheese and crackers in order to save up enough money to get home, where he could get a teaching job.
William started teaching in one-room schoolhouses in Pierce Township and forty-seven years later ended his career in East Washington School Corporation, which includes Pierce Township. His father and grandfather both taught in the same area. His daughter and granddaughter also taught school in the East Washington School District, making five-generations of the same family to teach school in the same school district.
He gave his daughter and granddaughter the same advice when they began their teaching careers. When they asked how to be good teachers, he answered, "Be firm, fair and friendly, but not best friends; you're not being paid to win a popularity contest." Both found the advice to be absolutely accurate.
Mathematics was William's major field of interest and favorite subject to teach. He also served as high school principal. Even when he was Principal, he always liked to teach at least one class of higher mathematics.
William was also an accomplished basketball coach, with the desire to win, but also with the aspiration to teach the team something in the process. Under pressure, he would admit that he never had a losing season as a coach, except his first year in which he had a 500 season. During this season, William became the coach midway through the season, and realized the team's problem was lack of teamwork. Knowing they had been studying Alexander Dumas' novel The Three Musketeers in English class, his pep talk in the dressing room reminded the team that the motto of the Musketeers was "All for One and One for All." The team got fired up, dashed out of the dressing room and won their first game that year. Afterward they adopted Musketeers as their mascot and royal purple and bright gold as their school colors. For many years the sign over the dressing room door, the last thing the team members saw before going on the floor, was "All for One and One for All."
Later, the State of Indiana ruled that elementary teachers could not coach high school teams. This was the impetus for William to return to Central Normal College during the summers to finish his Bachelor of Science degree and then earn his Master's Degree from Indiana University in 1949.
As retirement approached, William asked if he could resign as Principal and teach nothing but his beloved mathematics during his final year. This wish was granted and he had a wonderful forty-seventh year of teaching. For many years, students had told him that their mothers or fathers had enjoyed having him as a teacher. William always said that when students started saying their grandmothers or grandfathers had enjoyed having him as a teacher, it was time for him to quit. He may have had three generations that he never knew about, but he had watched one student come along and, sure enough, she was in one of his classes that last year. He had taught her father and her paternal grandmother. He then decided that it was definitely time to retire.
After retiring from teaching, William devoted more time to his apple orchards and developed an exquisite blend of apple cider. It was pure, fresh and unpasturized. His wife would cut the rotten spots in the apples out by hand. He once turned down an offer of $1,000.00 for the recipe. The Fraternities and Sororities from the University of Louisville would buy it by the hundreds of gallons around Halloween. One customer with a refrigerated truck ordered a thousand gallons, which was a real challenge for a small operation like his. He never revealed the recipe, but his grandchildren learned it simply by helping him make it after school. After his death, the recipe was found in his bank lock box.
William O. Martin was active in civic affairs. He was instrumental in getting electricity into the eastern part of Washington County in the 1930's. He spent many days driving up and down State Road 60 petitioning people to sign up, finally getting enough signers. Around 1938, he told his four-year-old daughter to "watch." He blew out the kerosene lamp, flipped a switch on the wall, and she was astonished to see the whole room light up, eliminating the dark corners.
In the 1950's, William worked diligently to get the Washington County Rural Telephone Cooperative organized. After its organization, he served as President of the Board of Trustees for twenty-five years. As a result, the small town of Pekin was the first in Washington County to have dial telephones and single party lines for every subscriber.
William also served on the building fund committee for the addition made to the Washington County Memorial Hospital in the 1970's. He was the first president of the East Washington Lions Club and a charter member of the John Hay Society Sons of the American Revolution. He was a deacon at church and served many years as church treasurer.
William was proud of the fact that his farm was designated a Hoosier Homestead. His daughter, his grandson and two great-grandsons still live on this land that has been in the Martin Family since 1839. That makes six generations continuously on this land.
In 1996, William's children, Allan E. Martin and MarjiAnn Souder, determined that they wanted to honor their father and his love of mathematics in a special way. They established the William O. Martin Math Prize Fund. Because of this, the William O. Martin Math Prize will be awarded annually to a graduating senior from Eastern High School who excels in math. Because this is an endowed fund in the Washington County Community Foundation, this prize will be given forever. William's children established this fund because they realized that, "the fund will continue to grow and the students he loved to teach would benefit indefinitely, as the Foundation will go on forever. This way, he will be remembered for generations to come and excellence in the subject he loved will be encouraged." This fund in the Washington County Community Foundation will help to keep the memory and spirit of William O. Martin, the person responsible for the "All for one and one for all" slogan at Eastern High School alive for future generations.