Charlotte Pruitt Martin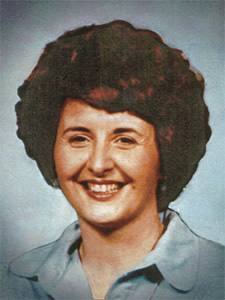 She opened and closed her weekly radio show with her theme song, "Little Joe, the Wrangler." It is a song about a young cowboy wanna-be, with a spirit that would not give up or realize his limitations. This song was more than a theme song for her radio show, it ended up being a theme song for the way she lived her life.
Charlotte Pruitt Martin was born in Jeffersonville, Indiana. She was the daughter of Loice and Basil Pruitt. She had one brother, Bud, and one sister, Gloria. Growing up in Borden, Indiana, Charlotte loved to sing and family and friends quickly realized that she was truly gifted. She was invited to sing at numerous churches and events throughout the community.
While a student at Borden High School, Charlotte set out to make a name for herself in the Country Music business. Her desire and talent took her far. She performed on a weekly teen radio show on WHAS Radio. In 1958, The Charlotte Rose Show debuted on WSLM. It was a weekly show that was originally slated for a 15-minute segment; however, due to its popularity, it expanded to 30 minutes. The Charlotte Rose Show ran on WSLM for 27 years. On it she sang a variety of songs, but truly enjoyed the light Country Western songs and religious hymns. He favorite performers were Patsy Cline, Ann Murray, and Dolly Parton. "She had a voice like an angel," husband Don fondly remembers.
Charlotte also performed at the Grand Ole Opry in Nashville at the tender age of 17. She took a brand new guitar to this performance. A very nervous young man asked to borrow her guitar for his performance. She loaned him the guitar. Unfortunately, his belt buckle scratched the back, ruining the new finish. At the time Charlotte was very upset with the young man for his carelessness, although she knew it was probably jittery nerves that caused the accident. Later, she forgave the young man, and the scratch on the back of her guitar actually became something that was a source of pride to Charlotte in later years, as it was a remembrance of the time she loaned her guitar to Conway Twitty.
Although immensely talented, the greatest source of Charlotte's pride was her three children, Don Junior ("JR"), Roxanne, and Rebecca. "She was a devoted mother, dedicated to instilling in her children her values regarding family, church, and home life," remembers her husband, Don. She was heavily involved in their lives and became a Girl Scout leader, a 4-H leader, and was very involved in the Youth Ministry at the First Christian Church.
Charlotte shared a love of horses with her daughter, Becky. They would ride together and Charlotte taught Becky to show horses as well. Charlotte preferred to ride Western style, but taught Becky to ride both Western style and English style. Becky remembers a very special Christmas when, "Mom got me all the riding gear I needed."
In 1979, Charlotte was diagnosed with breast cancer. "She was a brave soul," stated Don. "The doctors gave her two years after she was diagnosed, but she proved them all wrong. She lived six years and never gave up. She took chemo and radiation and fought the cancer every day. She was an inspiration to the rest of us."
Like Little Joe the Wrangler, the character in her theme song, Charlotte approached life with a positive attitude, willing to take on any challenge and always give it her best. "I would love to spend one more day with my mom," stated Becky. "But I realize that day will come. I wish my children had gotten the chance to know her. My mom was a fabulous lady."
After Charlotte's death, her family established the Charlotte Martin Fund with the Washington County Community Foundation. The fund was established in Charlotte's honor to provide medical transportation assistance to individuals battling cancer. "We wanted to do something in her honor and also help other people fighting cancer," Don said. Setting up a fund in the Washington County Community Foundation was an easy way to accomplish this goal."