Ralph and Faye Mahuron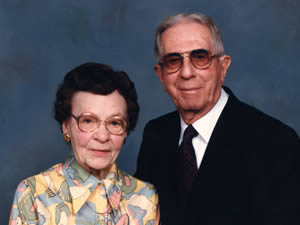 "The least said is the easiest mended." This was one of Ralph Mahuron's favorite maxims, and it was also descriptive of the life style that Ralph and his wife, Faye, enjoyed. They led a quiet and conservative lifestyle. A lifestyle that would serve them well, but would also help to establish one of the largest funds in the Washington County Community Foundation.
They were Washington County residents their entire lives. Ralph was born on a farm in South Boston and Faye was from the Pekin area.
In 1928 Ralph started the Mahuron Dairy with his cousin, John Mahuron. He stayed in this business for five years before selling out his interest in 1933. Ralph went on to hold a variety of jobs and was a successful business owner. He worked for the Standard Oil Company and owned the Standard Gas Station. He worked as a new car salesman at the Glass Motor Company. From there, he went on to work for the Department of Transportation. While at the Department of Transportation, he functioned as an inspector. He was the inspector for Interstate 65, between Indianapolis and Louisville, while it was under construction.
Ralph retired from the Department of Transportation and entered the world that he truly loved, politics. He was elected Mayor of Salem, and was the first person to be re-elected in that position. While serving as Mayor, Ralph was instrumental in the development of Henderson Park and he applied for, and received, grants to build the Senior Citizens Center. He always tried to be fair and kind hearted to everyone and loved to help people.
While serving as Mayor, Ralph received a complaint from a citizen regarding the way a particular school guard dressed. Ralph told the individual filing the complaint that "The man did a good job, the children liked him and he has a good heart," thus helping the person filing the complaint to realize the positive qualities of the school crossing guard, while maintaining the crossing guard's dignity.
After retiring as Mayor of Salem, Ralph was elected as Washington Township Assessor and served in that position for eight years. He was also the Washington County Republican Committee Chairperson for sixteen years.
Faye led a quiet life. During World War II, she worked at the Charlestown Powder Plant with Ralph. For the remainder of her life she worked inside the home as a homemaker.
Ralph and Faye were never blessed with children, although they dearly loved children. For the most part, they led a quiet, conservative life, but they had many interests. Ralph was a member of the Salem Masonic Lodge and Faye was a member of the Order of Eastern Star. They were active in their church and very interested in the history of Washington County. Today, and forever in Washington County, many organizations and individuals will benefit because Ralph and Faye cared enough about our community to give what they had back to the county.
Because of their conservative lifestyle, Ralph and Faye were able to amass a large estate. The Ralph and Faye Motsinger Mahuron Fund was established with the Washington County Community Foundation and today it is the second largest fund in the Foundation. Every year, Ralph and Faye's fund issues grants to the three area high schools for scholarships, the Washington County Memorial Hospital, Blue River Baptist Church, Salem Baptist Church, Olive Branch Church, Salem Masonic Lodge, Order of Eastern Star, Senior Citizens Center, Blue River Cemetery, Olive Branch Cemetery, Rodman Cemetery, and the John Hay Center Foundation. Since this is an endowed fund with the Washington County Community Foundation, Ralph and Faye's gift will continue to give, year after year, FOREVER.
There are many lessons in Ralph and Faye's life. None the least of which is, "The least said is the easiest mended." If they teach future Washington County generations nothing else, this lesson is well worth it.