Manda and Albert Huff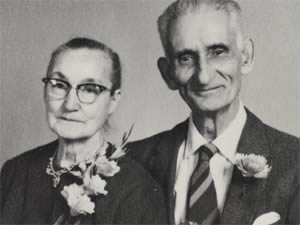 "They had a hard life, but they were never beaten down by it. They met life, responded to its challenges and won," reflected Olson Huff of his parents, Manda and Albert Huff. Albert and Manda were born only a few miles apart, in the rugged and isolated Cumberland Mountains of the Eastern Kentucky Appalachians. They were descendents of a family that truly pioneered America, having settled in eastern Kentucky around the time of Daniel Boone. "Our parents came from pioneer stock," declared Walter Huff. "Their forebearers help to colonize Kentucky. This pioneer spirit was passed down to them. They had deep roots in the development of the United States." That pioneer upbringing and determination led Albert and Manda on an eventful journey though life that will reach out to our county's youth forever.
Albert was born on July 23, 1904 in Confluence, Kentucky to William and Mary Huff. Manda was born on April 15, 1904 to Jim and Sally Jane (Colwell) Hamblin. Times were tough for both, as they grew up in remote towns just twenty miles apart where grinding your own cornmeal, spinning your own fabric and shoeing your own horse was an everyday occurrence. Many families had small "warm houses" which were next to the family home. These buildings were constructed to stay warm in the bitterly cold winters by insulating 12-inch thick doors and walls with sawdust. The buildings were filled with items in danger of freezing during the hard winters.
Manda was one of twelve children. She had two brothers and nine sisters. Her father believed that the best place for a woman was in the home; therefore, Manda did not receive a formal education beyond the third grade.
Albert, too, was from a large family. With ten brothers and sisters, he was unable to continue his education beyond the third grade. When Albert was 14, his father left the family, leaving Albert to provide for his mother and younger brothers and sisters. Jobs were scarce, but Albert was able to secure employment in the coalmines. Four years later, Albert was diagnosed as having a crippling disease from which he would not recover. However, he did overcome this ailment. This was not the only time Albert would overcome physical challenges. Later in life he would be diagnosed with tuberculosis. He would also bravely fight and defeat this terrible disease, but only after two long visits to tuberculosis sanatoriums. Through all the adversity, Albert went on to construct a love-filled life for Manda and his children.
Albert and Manda were married at the tender age of sixteen in the Huff Island Old Regular Baptist Church. They had 6 children: Cleta May, Jeannette and Jerald (twins), Walter, Olson and Lloyd. They started out in Krypton, Kentucky and later moved to Pittsburgh, Kentucky. "You walked everywhere you went in Krypton," remembered Jerald. "To school, church, the store. Expenses were minimal. I guess because no one had much."
Answering the call of their pioneer spirit and upbringing, Albert and Manda moved from their home in Krypton, Kentucky to Pittsburgh, Kentucky in 1942, in search of a better life. Five years later, in 1947, they purchased a 60-acre farm just south of Salem. "Moving from Eastern Kentucky to Indiana was like going from black and white to color," reminisced Olson. "When we pulled up to the house in Salem, it was the first time that I had ever seen electric light. I thought that was wonderful," remembered Lloyd.
Lloyd also remembered a time in Kentucky when his father gave him a new pencil that had never been sharpened. He recalled, "I didn't want to sharpen it because it was so special. Our early childhood was abject poverty. It was only through Mom and Dad's hard work and determination that we moved into the 21st century. We owe a tremendous debt to them."
Although hard work was the order of the day, everyday, Manda and Albert were setting a living example that would mold their children's personalities and lives. "They were truly the salt of the earth," declared Lloyd. "They were of great moral character and virtue. They cherished their religion, honesty, and integrity. They were the finest people anyone could have for parents."
During these years, Albert worked for the Louisville and Nashville railroads. This required him to be away from the family during the week. The family would travel to Louisville to pick Albert up every Friday evening for the weekend visit. When home, Albert loved to sit on the front porch and sing Appalachian folk songs and talk about his early childhood. "Although he was not formally educated, he was smart and articulate," affirmed Lloyd. "He told stories of his life experiences laced with moral examples that served as guideposts to living."
Albert retired after 26 years of employment with the railroad. During this time, Manda worked the farm (which included live stock, tobacco and sweet corn), worked in the canning factory in Austin, and sold eggs and milk. Jerald remembers, "Mom went to the bank to pay the farm note off early. They didn't want her to, but she made them take her money." According to Walter, "If there was a nickel to be made, she could do it." Olson recalls, "I have often thought that if Mom had had the benefit of education and grown up in a different time, she probably would have been a corporate president."
Although times were hard, Albert and Manda enjoyed life. They enjoyed music, especially the folk music of Eastern Kentucky. Manda taught herself to play the organ that Albert bought for her. There were always presents at Christmas and homemade ice cream on the Fourth of July. Manda loved to make candy, including peanut butter fudge, chocolate candy and divinity and she also loved to work in her garden and grow things. For almost 50 years, Manda tended a half-acre garden in Salem. She raised over 20 different kinds of vegetables, which she would can for the winter. Also, when the farm had livestock, Manda would also can spare ribs and sausages. Manda was a member of the Hoosier Homemakers Club and enjoyed the meetings and trips. After warm, spring rains you could find her hunting mushrooms. After Albert retired, he became an accomplished carpenter and wood crafter in spite of his arthritis. He loved working with cedar and walnut and made each child a cedar chest, as well as several bedroom sets. "He could make something out of nothing," remembered Jerald.
It was a hard life, but Albert and Manda persevered. Their example taught their children the value of hard work, and a strict moral character. They were opposites in many ways. Manda was strong willed, practical, and fiercely independent. Albert was philosophical and mild mannered. Both received only a few years of formal education. However their strong spirit, work ethic, and lack of formal education translated into a message none of the children could ignore. "It was very obvious that the singular most important thing to them was that their children received an education. They worked like servants to accomplish this," stated Olson.
After completing the eighth grade, Jerald and Jeanette were sent to Berea, one of the few work-study colleges in the country. "Every time I went home for a visit, I cried all the way back," said Jeanette. "Leaving Mom and Dad and my brothers hurt so much. Mom and Dad gave us everything they had to give, financially and otherwise and you can't ask for more than that."
Walter, Olson, and Lloyd also went on to receive formal educations. All the children enjoyed very successful careers. "Our parents both realized the lost opportunities in their lives due to a lack of a formal education," stated Walter.
Albert and Manda's legacy to their children was to become a happy human being and enjoy life. The common thread was always how much do you know, how much can you learn, and how much education can you get. Because of Albert and Manda's strong belief in the value of an education, their children established the Albert and Manda Huff Memorial Scholarship Fund with the Washington County Community Foundation in their honor. "They valued education," stated Walter. "We thought it was fitting to their memory to set up a scholarship fund with the Foundation." Because of this desire to honor their parents, the Huff children will be providing for the youth of Washington County, forever. Every year, a student will receive a scholarship from this fund, in honor of two wonderful human beings. Because this is an endowed fund, the scholarship will be given year after year, forever. The legacy and message from Albert and Manda to our youth of tomorrow will be that of the value of education as well as love. "Even though we were poor, as a result of their hard work we did not lack for anything. Dad was a good provider," stated Lloyd. "We were really blessed with their love. It was never a question. I always felt that I was loved deeply. We never lacked for any nourishment of the soul. We never went hungry. We had all the important things in great measure, the most important of which was their love."