Donnie and Reta Haub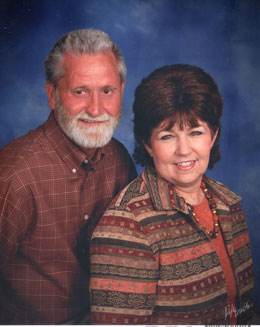 For some people, the definition of a successful life is travelling to faraway places, obtaining multiple degrees, or gathering a great archive of unique experiences. But for others, fulfillment is found amidst simplicity and through touching the lives they come in contact with from day-to-day.
Donnie and Reta Haub are two of these people. They do not pride themselves on grand accolades or possessions. They simply employ their talents and gifts to have an impact, no matter how small or how great, on the people surrounding them.
Donnie was born on November 20, 1953 in Clark County, IN to Phillip Haub and Dorothy (Crane) Haub. However, he grew up in Harrison and Washington County. Although he had many siblings, he often had to find creative ways to entertain himself. So, from a young age Donnie developed a love for tinkering and fixing things – no matter what the issue was or what was broken!
Once he had graduated from West Washington High School, Donnie started working at Ferraloy. He worked for the company and its successors for fifteen years and left when the factory went out on strike. He later found a job at Peerless Gears, which is also in Salem, and has been working in the maintenance department there ever since. Reta says, "He enjoys his job because he still likes to fix things."
Reta was born on March 20, 1955. She was the daughter of James Dewey Hammond & Doris (Epperson) Hammond. Like Donnie, she too had many siblings. Reta had three brothers – Gary, Jerry, and Dennis – and one sister, Sharon. Reta grew up in Washington County her entire life. Not long after Donnie, Reta also graduated from West Washington High School.
She and Donnie were married on June 23, 1972, surrounded by their family and friends, in Washington County. They had two sons, Jamie and Uriah, both of which were raised in the area and followed in their parents footsteps, bearing "Senator pride" upon graduation.
Just like Donnie, Reta also looked forward to putting her own unique skills to use. Throughout high school, Reta had taken a few bookkeeping classes and discovered that she both excelled at the subject and enjoyed it. Thus, it was no surprise that when she was offered a job in the bookkeeping department of Farmer Citizens Bank (now PNC), just three months after graduating, she snatched it up!
Reta stayed at Farmer Citizens Bank throughout all of its transitions up until it became PNC. However, she did not remain in bookkeeping for long! After she worked in that department for a while, the President of the branch came to her about a promotion. At first, Reta was hesitant because she very much enjoyed her current position. But with some coaxing and persuasion, she decided to give it a try. She moved into a teller position and quickly realized that she could not go back to bookkeeping. When asked why she enjoyed her newfound position so much, Reta quickly replied, "I fell in love with the people! I got to learn all of the people in the community and build relationships. I liked that."
Through lots of training and the "school of hard knocks", as Reta puts it, she has climbed her way up the ladder. Reta now serves as the Vice President and Branch Manager at PNC bank.
Aside from their careers, Donnie and Reta have benefited the community in more ways than one. They are members of Westview Christian Church in Campbellsburg. There, Reta has played the organ as part of the music ministry team for many years.
In addition to church involvement, Reta has served on multiple community boards as both a member and treasurer. She has enjoyed her time of service to things such as the Washington County Chamber of Commerce board, the Hospital Foundation of Washington County, and the Community Foundation – and much more!
Having lived, worked, and served in Washington County for many years now, Donnie and Reta have seen the true heart of the community. Working at the bank, Reta has come in contact with many of the community's businesses and non-profit organizations. She says that she has, "witnessed the struggles that many of them have trying to get funding. I have seen many of them come to the bank asking for donations, but, unfortunately, we could not possibly donate to everyone."
It is because of Donnie and Reta's desire to help eliminate some of this struggle that they have set up the "Donnie and Reta Haub Touch Tomorrow" fund through the Washington County Community Foundation. "I started this fund as a way to be able to give to people in order to help them achieve their dreams and goals so that Washington County can become a better place for future generations," says Reta.
So, although they lead a simple life, Donnie and Reta are daily leaving a significant mark on Washington County. Whether it is by fixing something that is broken, smiling and offering a "hello" as people go about their workday, or helping fund a work through the Foundation, one thing is certain: their actions are always for good, forever, and for Washington County.