Fred and Anna Elliott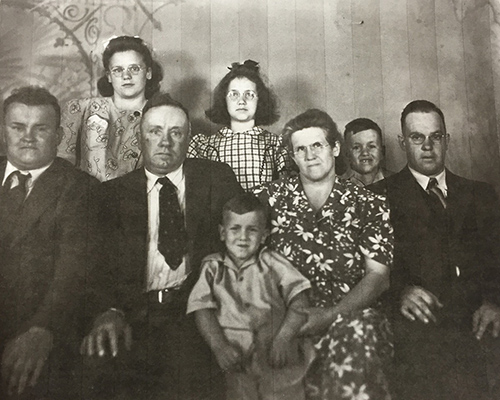 "I can't ever remember a time when Mom and Dad said we were going to Grandma and Grandpa's and I didn't want to go," said Mark Elliott, a grandson of Fred and Anna Elliott.
Fred and Anna lived on a farm in the Canton area for many years. Both were born and raised in Washington County. Fred was born on July 30, 1898 and Anna, just a few years later, on August 6, 1900. When it came time to raise their family, it was never a question of whether or not they would move away from the area. "They had roots here," said their grandson, Paul. After doing some research, Paul found that there was one piece of land in particular that had been in the family for many generations, and Fred and Anna wanted to keep it that way!
The couple had six children and, eventually, fifteen grandchildren. It was not out of the ordinary to stop by their home on any given day and be greeted with the happy sounds of their grandchildren playing. Another grandson, Wron Wade, remembers how Grandma always had a play area for the boys and for the girls. "The girls had their playhouse and the boys had the barn," he said. The boys would often build forts in the barn loft or make their way down to the creek behind the house. Wron's cousin, Mark, laughed as he remembered the fun they had getting into mischief, disturbing the cattle. Wron said, "Grandma pretty much let you run wild to a degree, but you did have to mind. She'd make you tow the line!" But, for them, the farmhouse was perhaps the most exciting place to be – sometimes, there would be 8 or 10 grandchildren spending the night at the same time!
So, Fred and Anna always made sure that everyone understood the value of family. Their grandson, Brent Elliott, says that for as long as he can remember, Thanksgiving was always held at grandmother and grandfather's house. Getting together was the tradition, and Grandmother's yeast rolls were the specialty, Wron remembered. At Christmas time, all of the grandkids put on a little skit for the rest of the family, showcasing their special talents or, as Mark said laughingly, "Maybe it wasn't necessarily their specialty!"
"The importance of family was probably the number one thing that they taught us," Brent said. "Keeping contact, keeping close, and relying on each other."
Fred and Anna were not wealthy by any stretch. They farmed all of their lives, and Anna did some other things on the side to make extra money, like selling eggs and crafts. Brent said, "They were never really super well off, but boy they treated all of us grandkids like royalty!" Fred and Anna taught them that you didn't have to have a lot to be happy; good memories were worth more than exciting things.
Many of those memories revolved around a little country store called Jake's. Wron said that he remembers days spent working with his grandfather outside on the farm. "We'd be working, mowing grass or fixing a fence or something. Grandpa would look up at the sun and say, "I believe it's 10 o'clock." And then we'd go to Jakes and get a Dr. Pepper. Later he'd say, I believe its 4 o'clock. Then we'd go have another Dr. Pepper." They all agreed that Jake's was important because, going there with Grandpa, "it felt like you were big stuff!"
Just like there are many fond memories of Fred, the grandchildren think back on times with Anna and smile just as big. Anna's granddaughter, Linda Elliott, said, "Grandma loved her chickens. She'd talk to them while gathering their eggs and took such pride in them, knowing their breed and characteristics. But it wasn't a situation where they were pets." Mark said that she had the technique of taking care of those chickens down pat – and it was often a sight to see! Brent chuckled as he remembered: "After she chopped off their heads, it was our job to keep the chickens off the driveway so that people didn't run over them. We had to keep them contained."
Anna was always busy and involved in something. Brent said, "Grandma always believed everybody should have a hobby… She had about forty of them." Mark said that you never knew what you were going to find with her. "You might walk into the living room and see her sewing or she might be painting a plate."

But although Anna had many hobbies, there was one thing that you could always expect from her and Fred: church. They were a part of the Methodist Church in Canton. Wron remembers, any time you were at Grandma and Grandpa's house, you went to church. He said, "When you stayed there, you went with them," no questions asked. Brent added, while they were "very God-fearing and very religious, they were also very welcoming to just about anybody."
This welcoming spirit was one of the many reasons that Fred and Anna were so loved and remembered by not only their family, but also the community as a whole. Sometime after their children were grown, Fred and Anna moved from their farmhouse and bought the Winslow store that many people in the community remember as the "doll hospital." Another of Anna's hobbies was to repair dolls, particularly porcelain dolls from the late 1800s. Wron said, "She repaired China dolls from people all over the U.S." and even some from across the world!
They also had a small blacksmith shop across the road from the house. Wron remembered how "Grandpa would just go over there and mess around (to get away from grandma mainly)!" One time, Grandpa even helped him make box straps, carving out the locks and latches. The fact that he could do all of this was amazing, though, because of the fact that Fred only had one arm!
As a younger adult, he had an accident on the farm that required him to replace his arm with a hook. Mark said, "I always thought it was amazing the things he could do with his hook. It was like it really didn't limit him." Brent recalls sitting on his lap and playing with the hook. "We thought that was the most fascinating thing on the planet and we would always open and close it."
Anna is also always remembered among the community for her famous angel food cakes. Her granddaughter, Linda, remembered how there were always multiple cakes in the deep freeze. Anytime company came over, Anna would pull one of those cakes out to serve to them. She said, though, that "the fascinating thing about grandma was that she refused to eat anything white – mashed potatoes, cauliflower and oddly enough, angel food cakes. So while she must have made thousands of angel food cakes, she never ate a bite!"
But among all of the reasons that they are remembered, perhaps one of the biggest is for their ever-so-different personalities! When reflecting on the attributes that stood out about their grandparents, the grandchildren all pretty much agreed on what they were like. Paul put it this way: "I'd say that Grandpa was probably one of the gentlest, kindness people I knew. And the polite way would be to say that Grandma… wasn't." All of the others agreed that, while Anna was very opinionated, Fred "pretty well kept quiet." Most would say that Fred and Anna Elliott were the epitome of the notion that "opposites attract."
At the end of all these memories and thoughts about what people would say of Fred and Anna Elliott, one thing rang true through it all. Mark said, "They were just really honorable people. I don't think anybody could say any different that had ever had a dealing with them." They loved their family, their community, and their country and always made sure that the important things remained the important things.
Fred passed away at the age of 85, on June 12, 1984 and Anna passed away at 86, on July 10, 1987. In order to honor Fred and Anna, a fund was established with the Washington County Community Foundation. Through it, their family will be able to keep alive the many memories that they treasure for generations to come. Through the projects the fund will support, the family values and faithful commitments that Fred and Anna held will ring through and their legacy will do good, forever, for Washington County.