Rachel Davis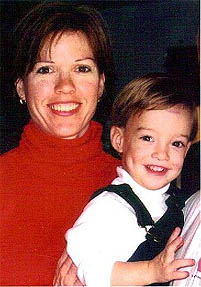 Sometimes things happen in life that are hard to understand. The death of Rachel Spaulding Davis, at the age of 42, is one of those tragedies.
When most people think of Rachel, they remember her beautiful, radiant smile that never seemed to stop. Equally big and beautiful was her heart.
Rachel was born January 17, 1958, to Dr. John and Winifred Spaulding. She grew up in Decatur, Indiana. Her father was a well-known dentist who practiced for more than 40 years and was a 2000 Stephen Decatur Award recipient. Her mother was the Bellmont High School library para-professional. Rachel graduated from Bellmont High School in 1976, where she had played on a three-year undefeated girls' softball team. Her interest in the sport started when she was 12, when she played in the city league. The summer after high school, Rachel played on the Cycle Isle Team in the adult league of Decatur. She absolutely loved the sport and it remained a part of her life until her death.
"Rachel could really hit the ball!" said John Cullen-Lollis, a friend and colleague. "High and far over the heads of the other team's outfielders, who, like us, would come in closer to centerfield when women came up to bat. As her teammate, there were a few moments more satisfying in a game when the sound of her bat hitting the ball sounded just right and watch the outfield follow the ball over, over, over their heads and then have to scramble behind them for the ball. Yes! How'd she do that? Surprise!"
Rachel's father said she also had a talent for fishing.
"She was a very good spin caster and often liked to brag that she always caught more and bigger fish than her dad," he said.
Rachel was inspired by her parents to be earth friendly and she took her environmental-protector position seriously when she pursued a degree in public and environment affairs from Indiana University. Disconcerted by the fact few females pursued such a degree, she was decades ahead of her time when she became interested in the support efforts for clean air, water, and land.
In 1980, Rachel graduated from I.U. and started her 20-year environmental career. In addition to her degrees, she was recognized as a 2002 Distinguished Bellmont Graduate, was a well-respected environmental scientist, project manager, and health specialist. One of very few women in this field, Rachel was an esteemed professional and sought after for her insightful scientific and managerial abilities.
"She was so into being environmentally responsible," said her sister-in-law De Davis. "Almost every aspect of her life reflected that: she drove a Subaru, was a vegetarian, her chosen profession, recycling everything. She taught me the importance of recycling."
Rachel moved to Salem in 1980 when she took a job as the Washington County Sanitarian. It was here that she met her future husband, Brent Davis. The two were married in 1986.
It wasn't until years later that Rachel became pregnant with their first two children. Twins John and Hannah were born on Dec. 21, 1997. To their devastation, Hannah died shortly after birth.
Mary Ann Miles, another colleague and friend, remembered throwing a surprise baby shower for Rachel when she was pregnant with the twins.
"We all felt so bad when she lost Hannah because we had given her pink and blue items, but Rachel tried to make us feel better about that, even though she was going through her own personal hell. That is just the type of person Rachel was . . ."
During her career, Rachel worked for the Indiana Department of Environmental Management (IDEM), as well as at Camp Dresser and McKee for 10 years as an environmental consultant before landing a job at the University of Louisville's Department of Environmental Health and Safety.
"There is no doubt that Rachel made significant contributions to the field of environmental management and she was a great environmental steward and an individual," said Cheri Hildreth Watts, who, along with Rachel, belonged to the Kentuckiana Chapter of the Hazardous Materials Managers.
Her professional life continued to flourish. She served as past president and vice president of the hazardous professional association, Kentuckiana Chapter of the Hazardous Materials Managers. Rachel earned an outstanding performance award at Camp Dresser McKee, Inc. in Southern Indiana, where she consulted as a health and safety resource for a multi-state region. Her recognition as a respected and outstanding employee was shadowed by her community and family allegiance and impressive athletic abilities.
Philip Hendershot, a co-worker at Camp Dresser & McKee and friend of Rachel's, said "despite her gentle disposition, she was a rugged worker (mentally and physically) who could always be counted on to help out in whatever way she could. She was good at what she did and beyond that, she was just fun to work with.
"We would laugh hysterically at silly things; people with funny names, the quirky habits of engineers, the things that cats do, stuff that her husband would say, stories of small town life in Salem. Quite frequently, she would laugh to the point of crying. It was always great to see her get such a kick out of things."
Rachel's laughter was contagious and many friends and family remember laughing with her over the silliest things.
"She loved to laugh!" said De. "There were many times when something very silly would happen, and she and I would laugh, then laugh some more, and end up uncontrollable, laughing so hard we were crying, gasping for air, then laughing some more. I wish I could remember those silly things that made us crack up like that. I don't remember a one, just the euphoric laughing!"
Rachel also loved her life in a small-town community. A member of the Decatur Presbyterian Church at Five Points, Rachel had her membership transferred to the Salem Presbyterian Church in 1985 where she was elected as an Elder and served as chairman of the Congregational Life committee and the Social Justice Committee.
She loved animals and she and Brent spent a lot of their free time volunteering at the Humane Society. She always had a dog or dogs, cats and begged for a horse or large pony, though her father didn't think that was such a good idea since she and Brent lived on four acres of land in town.
It was on Aug. 28, 2000, that Rachel's life took a sudden turn for the worse. It was that day that she found out she had acute leukemia. At the time, she was pregnant with her third child, Miles. Her battle ended three weeks later.
Rachel left her husband of fourteen years, Brent, and their son, John, while she joined their daughter Hannah and son Miles on September 17, 2000. Those who knew Rachel know that she is busy keeping her eye on the environment from above.
In 2010, U of L dedicated a newly-remodeled conference room in Rachel's memory. It is called the Rachel Davis "Green" Room and it shows that although she has been gone for more than ten years, she is still doing good for others here on earth.
Rachel's family started a Touch Tomorrow Fund in her name through the Washington County Community Foundation in 2009. The fund is unrestricted and will be used to improve the quality of life in Washington County, in Rachel's memory.