Kenny Coliapolis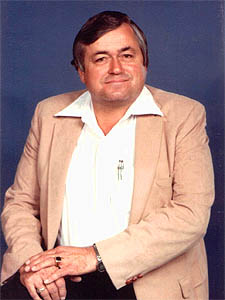 Kenny Coliapolis was a people lover according to Barbara, his wife of 38 years."He just loved people!" she said. "He was a people person."

Kenny, whose nick name was "Colie," spent his career talking to people and he was good at it. His first car salesman job was with Middleton and Dunn. The lot changed ownership several times before it eventually became John Jones GM City.

"He loved cars," said Barbara. "That was his life."

She said he really enjoyed his job and all the people he got to meet on a daily basis. Barbara said he made friends all the time and was especially close to his boss, John Jones.

"They were like brothers," she said, adding that he'd go in to work every morning, six days a week, to open mail and drink coffee with John, even went to his house on Sundays.

She said Kenny would work 12 to 14 hours a day because he enjoyed it, adding that he was somewhat of a workaholic.
"He just loved it that much," she said.

In an obituary that ran in the September, 10, 1998, edition of The Salem Democrat, John Jones said Kenny opened the dealership in the morning and closed it at night. He said his dedication earned him awards in every division of selling cars.

"There's just not a better guy," said John. "I've been there going on 16 years and I've been with him every day, unless I was out of town."

Kenny was so dedicated to his job that Barbara can remember getting calls for his help at all hours of the day. Customers knew they could count on him.

"I can remember someone calling one time at 3 in the morning," she said. "The person on the phone said, 'I'm broke down! Kenny, come get me!'" And he did. Barbara said he was always helping people out. "He loved life," she said. "It was that simple."

Kenny was born March 22, 1937, to Charles and Alga Gibbons Coliapolis. His mother died just three months after his birth. He had twin sisters, Margaret and Martha, who were three years older.

Barbara said Kenny was adopted by a family in Campbellsburg, where they owned a grocery store. He stayed with the family until he was 15, and then moved in with two of his uncles. He stayed with them until he was 17, then got a job and moved out on his own. Kenny worked at Smith Cabinet for 10 years before he got into the car business in 1958. During that time, he also served in the National Guard for 10 years.

In 1958, he and Barbara met. She worked at a telephone office at the time and Kenny came in with a friend and struck up a conversation with her. The two were married September 23, 1960, and they have one daughter, Kimberly Sue Coliapolis Cress. She has two sons: Zachary and Amos.

Barbara said Kenny loved decorating the house for Christmas; it was his favorite holiday.

"We had lights everywhere!" she said.

One year, Kenny received an award from the Urban Beautification Committee for his decorations. Barbara still has the certificate.

Kenny died on September 9, 1998, from injuries he suffered from an automobile accident. He died at Washington County Memorial Hospital from a collapsed lung.

Barbara said Kenny loved life and loved people. At his funeral, she said hundreds of people came that she had never met. They were customers of Kenny's and they all had wonderful stories to tell her about her husband.

"He never met a stranger," she said. "Our daughter is the same way. They could talk to anyone." In 1998, John Jones started a fund with the Washington County Community Foundation. The fund supports Urban Beautification and is awarded to the Urban Beautification Committee of Salem.