Janet Bowling and David Sebastian
Throughout life, you will meet many people with varying traits and personalities. Some may tell you all about their prided accomplishments and accolades, while others might talk about all of the opportunities they let slip by. Still yet, there are certain people who regard themselves simply as an individual trying to work hard and lead a fulfilling life; they often do not feel that there is much worth noting. However, it is those individuals that can truly be considered the most inspiring.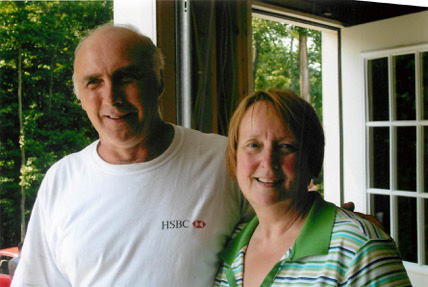 Janet Bowling and David Sebastian are two people that exude this humble spirit everywhere that they go.
Janet was born to Howard Sowder and Fern (Cox) Sowder in Mount Vernon, Kentucky on July 1, 1952. She had three brothers and two sisters. Although she was born in Kentucky, Janet grew up in rural Southern Indiana near Delaney Creek in the small town of Salem.
As a child, Janet remembers being rather quiet and shy. She also grew up in a relatively poor household and was not often afforded the opportunity to be involved in school clubs or activities. So, she was forced to be adventurous. But with five siblings, this was not a difficult task!
Janet said, "I was outdoors most of the time." "My dad logged and he had tobacco," she remembered, "so we always had horses or mules. We used to ride them a lot." Unlike her grandchildren, Janet did not grow up with a lot of television in the house. She said, at that time, "We would just go outside and walk through the woods and just adventure and play."
But as she got a little older, those fun evenings of adventure and play turned into weekends spent working. By the time she entered into her teenage years, Janet spent much of her time babysitting to earn money. Whether it was watching her own siblings or neighbors' or family's' children, she was required to take on responsibility at a very early age. "I bought my own schoolbooks and clothes since I was 12 years old!" she said. "I was an adult my whole life."
While some would say she was robbed of a true childhood, Janet has never been resentful of her situation. Reflecting back, she said, "I just knew I had responsibilities and that I had to take care of them."
Upon graduating from Salem High School in 1970, Janet found herself working two part time jobs, one at JayC food stores and one at H&R Block. Soon following graduation, she was married for a period of time and had two daughters, April and Angela. In 1991, Janet took on greater responsibility when she purchased the Salem branch of H&R Block. While working both positions was not always easy, in just a few years, her part-time position at JayC would prove to be much more than an avenue of extra income!
While working at JayC, Janet met a man about three years younger than her named David Sebastian. David was born in Scottsburg, Indiana on September 10,1955 to Sam and Mary (Strinko) Sebastian. His upbringing was much like Janet's in many ways.
He came from a rather large family; he had six brothers and one sister, and was one of the middle children. Growing up, he was always a very outgoing person. He was an athlete and played basketball at Scottsburg High School for most of his teenage years. Unfortunately, an injury forced him to stop playing before he graduated.
David also spent a great deal of time playing with his siblings. With six brothers, you can only imagine the chaos that often ensued! Many of their summer days were spent at the public swimming pool in Scottsburg, where they would spend hours upon hours splashing and becoming red-skinned beneath the beaming sun.
Growing up, David's father was a truck driver and often gone on the road. Because of this, David grew very close to his mother. He helped her take care of his younger siblings often and took on a lot of responsibility at a young age. He helped support his family by getting a part time job at a local donut shop. He remembered having to wake up in the wee hours of the morning, around 4 or 5 o' clock, to make it to the shop in time to beat the morning rush. Janet said, of both of them, "It was very hard growing up."
When Janet and David met, she was a grandmother of her first grandchild, Kayla. When asked what attracted her to David the most, she commented, "He was really great with my granddaughter. He had such a caring personality."
After a few years of dating on-and-off, the two were married on May 11, 1994. At that point, Janet moved to Scottsburg where David lived. However, it was not long before the grandkids drew the two back to Salem so that they could spend time together and be close to each other. "My grandchildren mean the world to me," said Janet. Her first granddaughter, Kayla Jenkins Elgin – who is no longer a child – is married to Justin Elgin. In addition to Kayla, Janet and David have three more grandchildren: Danielle Bowling, Nathaniel Falk and Karlee Voyles. And finally, there is little miss Elly Elgin, their great-grandchild, Kayla and Justin's daughter. Janet and David are very proud of all that their grandchildren have accomplished and will accomplish in the future.
It wasn't long after they moved back to Salem that another big change occurred! In 1998, David started working at NetShape Technologies in Campbellsburg, IN, specifically focusing in the quality control department. Janet continued to manage H&R Block.
With their kids grown and their grandchildren close by, Janet and David were able to reflect back on their own lives. As they considered what they hope to have instilled in their family, a few things resonated in their minds. Janet said that perhaps their strongest values are to just give back to your community and work hard – it's simple, but tremendously important. Remembering where they came from, and the effort that was required on their part, the couple never considered anything other than hard work an option.
Janet also said that as her girls were growing up, she never hesitated to quote the old maxim, "Don't throw stones in glass houses." She said, "Don't talk about people. I believe in karma. If you're a bad person, it's going to come back. You don't lie and cheat or steal. It's not going to get you a place in this world. It takes hard work and being good to other people." Janet does not claim to have accumulated this wisdom all on her own, however. Her grandmother, Bessie Norton, was the epitome of hard work and Janet's constant motivation. "She was my model," Janet remarked.
But above all else, Janet and David hope to have provided their family with good memories and lots of love. To them, that is what makes a life well lived.
In order to practice what they preached, Janet and David set up a fund with the Washington County Community Foundation. Through their Touch Tomorrow fund, they will be able to donate part of what they have worked so hard to earn in order to better Washington County. "Washington County has been very good to us," Janet said, "It's important to appreciate what you have, because no matter how much work is available, without the support of the people around you, you won't succeed."
Although they come from humble roots, it is easy to see the kindness and generosity that Janet and David exhibit. They have never been and will never be daunted by hard work, but yet they never seek recognition. They help themselves and they help others, not for a reward, but simply because they feel as if it is the mark of a good person. For that, their influence is an inspiration to all who know them and their lives will have an impact for good, forever, in Washington County.