Maurice E. Berkey Jr. and Jean C. Berkey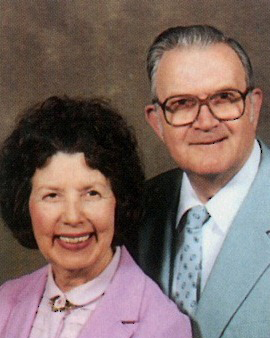 Maurice was born February 17, 1922 in Salem to Maurice Edward. Sr and Ida Mae Bush Berkey and passed away March 3, 2000 in the Naples Florida Hospital near their winter home, Bonita Springs. His sister, Jean Berkey, passed away in 2008. Maurice was a member of First Christian Church in Salem and was a graduate of Salem High School in 1940 and Indiana Central Business School. He was a life member of the Washington County Historical Society and was a member of Scottish Rite Valley of Indianapolis, the New Providence Masonic Lodge 237, National Preservation Society, the Audubon Society and the American Legion Post 41.
From 1942-1945, Mauri (as his friends called him) served in the Army. He served under General George Patton and received Commendations signed by General Patton and well as General Omar Bradley.

Mauri worked for many years as a manager for the Roegelein Credit Union in San Antonio, Texas, and retired as an accountant for Roegelein Provision Company. In retirement, he lived with his sister, Jean, in Salem. They spent many happy times together- she was so happy to have him home again and he took good care of her. They especially enjoyed their winters in their home in Bonita Springs, Fl. Caring for their yard and flowers.
Maury was very artistic and enjoyed drawing and painting. He was buried in Crown Hill Cemetery with full military honors.
Jean was born May 18, 1919 in the family home at 304 North Posey Street, Salem, IN and passed away August 28, 2008. She graduated from Salem High School in 1939. She and all of her family had been students of Miss Bradie Shrum, a well-known Salem teacher. Jean wanted to teach like Miss Shrum and modeled herself after the tall, strong and capable Miss Shrum. When Jean was a member of Miss Shrum's Girl Scout troop, Miss Shrum literally marched the troop up Market Street hill to Crown Hill Cemetery, where they placed flowers on the graves of veterans.
Jean's first job as a teacher was in the two room Canton School. Describing herself as a "green teacher" she credited her fellow teacher, Lendall Terrell, for mentoring her through a difficult first year. He carried the wood, filled the water barrel, and drove her to school each day. She taught three years in Canton where she and Lendall had pie suppers and cake walks to raise money for playground equipment. In the summer she worked at the Soil Conservation office, the candy counter at the local 5 and 10, and Lake Shaffer, near Monticello.
Her next teaching assignment was at the old Pekin School, the one which sat on the hill, and later burned. The school had two levels, with the elementary on the lower level. Ginger Morris was her pupil the first three grades. Ginger's father, Herschel Baker, was Jean's superintendent. Ginger remembers celebrating Jean's 26th birthday and learning cursive writing. Jean remembered Teacher's Institute and traveling to the Claypool Hotel in Indianapolis where it was held for many years.
Jean taught for 32 years and retired in the late 1960's. She then worked at the Salem Library for 15 years. She and her brother Mauri loved spending winters in Florida.
Jean joined Delta Kappa Gamma International in 1949. She was the first president of Omicron Chapter from Washington County 1956-1958 and was a chapter member of Gamma Rho Chapter. She was also legislative chairperson as well as vice-president of Omicron.
Jean was a long time member of the Salem First Christian Church. She also belonged to Retired Teachers Association, Tri-Kappa, National Historical Society, and DAR. AQs well as being a charter member of PEO Chapter DB, she was president 1979-1980. Jean was active as long as her health allowed.