Jeanne and Max Bedwell
Carol Jeanne Shafer Apple Bedwell, always called CJ by her family, was born in Louisville, Kentucky, where she attended Prestonia Elementary and John J. Audubon Elementary. Jeanne's father, the Reverend Floyd Doud Shafer, was a Presbyterian minister and the family made several moves during his career. When her family moved to Salem in 1960, her father was the minister at the Salem Presbyterian Church and her mother, Carol Jeanne Parsons Shafer, was a teacher at Salem Elementary and later Bradie Shrum Elementary from 1960-1968.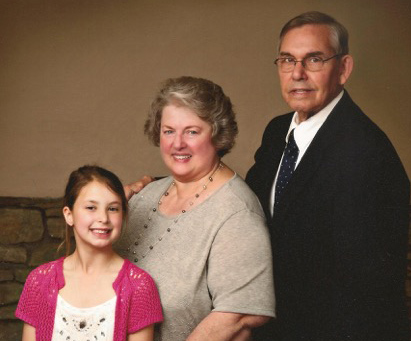 Jeanne graduated from Salem High School in 1962. That summer, she married James Apple of the SHS Class of 1960 and they attended Purdue University together. After James graduated from Purdue in 1965 and served in the US Army from 1967-1969, they returned to Salem with their son Jimmy, who was born in 1968; their son Dan was born in 1969. While raising their children, James was a pharmacist for the family drugstore, Apple Drugs, until it was sold in 1990.
In 1968, Jeanne returned to university studies, following in her mother's footsteps to become an educator. She finished her first degree at Indiana University-Southeast in 1973. Seven years later, she earned a Master's Degree in Secondary Education with a focus on English Education from Indiana University – Bloomington.
She began her career as an educator by joining the faculty of Salem High School in 1977. There, she taught English (Junior and Senior) until she retired in 2005. Throughout her years at Salem High School, Jeanne served as the National Honor Society Advisor from 1978-2005. In her "young" days as a teacher, Jeanne enjoyed taking interested students to the opera, ballet, and performances of "The Messiah." Over the years, she was a class sponsor for many junior and senior classes.
When her son Jimmy began playing basketball and son Dan became a student manager for basketball and football, Jeanne's time and interests were diverted to sports. She and her second husband, Max Bedwell, Salem High School principal from 1970 to 1997, enjoyed attending and supporting all the various student activities, from academics to sports, drama, and music.
Because of her constant involvement with the students, Jeanne was a beloved teacher in the Salem school system. In 1998, she received the Daghlian High School Teacher of English award from the Indiana University Department of English, having been nominated by her Senior English student Chandra DeHart, who was an IU Freshman at the time. The following year, Jeanne received an Academic All-Star Certificate of Merit from the Indiana Academic Competitions for Excellence, sponsored by the Indiana Star/News; Eric Williams nominated her.
Jeanne has two sons, Dr. James Apple (AKA, Jimmy Apple) and Dan Apple. Jimmy was an Indiana All-Star and Academic All-State in 1987 and played college basketball at the College of William and Mary. Now a professor of Buddhist Studies at the University of Calgary, he lives in Calgary, Canada, with his lovely wife Dr. Shinobu Arai Apple, a writer and researcher. One of their projects is to contribute articles to the international "84,000 Words of the Buddha" project, translating ancient Buddhist manuscripts into English using Jim's Tibetan and Sanskrit and Shinobu's Chinese and Japanese language skills. Jim has made research presentations around the world and has written two books and numerous articles about Tibetan Buddhism.
Dan is a consultant in financial budgeting software.
Jeanne also has two stepchildren, Steve Bedwell and Deanna Bedwell, four step-grandchildren, and twelve step-great-grandchildren.
Aside from time spent with her family, Jeanne is also very active in the community! Throughout the years, she has been involved with many local organizations, serving in various capacities from a member to several terms as president.
Tri-Kappa
Beta Tau Chapter
President, three Terms
Served on two state committees
Salem Tri-Kappa Associates
President, multiple terms
P.E.O. Sisterhood
DB Chapter
President, three terms
Daughters of the American Revolution
Christopher Harrison Chapter
Secretary
Volunteer Information Specialist
Possibilities Book Club
Colonial Dames XVIIC
Michael Paul Vandervoort Chapter

President, multiple terms

Secretary
SHS Alumni Association
"50 year" Class Secretary, 2012
Facebook Page Coordinator
Salem Presbyterian Church
Salem Classroom Teachers Association
Delta Kappa Gamma
Outside of those efforts, Jeanne enjoys writing email newsletters for several groups. In retirement, her interests are reading and study, including editing/proofreading books and articles for family and friends, compiling family genealogy, developing her website blog at www.jeannebedwell.com, developing her family genealogy website called The Riner Tree – www.jeannebedwell.com/geneology - writing letters and email, messing with technology gadgets, and enjoying her twelve step-great-grandchildren.
Jeanne's husband, Max Wesley Bedwell, was born in Sullivan County, Indiana, near Cass. As a boy, he helped with the family farm, plowing fields, building fences, feeding animals, and putting up hay. As he grew older, the joy of his life became playing football. There were many evenings, late after practice, that he walked several miles home from school – simply because he was dedicated to the game. His teammates called him "Coke"---for his favorite drink.
Max's life revolved around the game – including his schooling and career! He graduated from Dugger High School in 1955, where he played varsity football for four years, and then from Indiana State University in 1959. He came to Salem in 1961 to teach and coach at Salem High School. For eight years, he taught biology and Physical Education, while also serving as an assistant football and track coach. He later became Varsity Track Coach. In 1969, Max became Assistant Principal of SHS and Athletic Director. Just a year later, he became principal of Salem High School, serving 27 years and retiring in 1997. In his years as principal, academic standards were high and 13 students were named National Merit Scholars, while five others received a National Merit Letter of Commendation. Under his leadership, hundreds of SHS students went on to study at major universities; many earned advanced degrees and many students completed advanced training in vocational skills.
During his years as Principal of Salem High School, Max was active in many other roles as well. Because of his involvement, he also received many awards.
Indiana Department of Education
Served on several committees
Executive Committee of the Indiana Secondary School Administrators
ISSA Outstanding Administrator Award
Indiana Principals Leadership Academy
Bell Ringer Award (IN Dept. of Education)
Named Sagamore of the Wabash
In retirement, Max enjoys being busy and involved. Not long after retiring as principal of SHS, Max became a real-estate agent, working for EE Martin and later for Century 21. He helped many families find homes and often waived or lowered his fee. He especially enjoyed helping former students find homes.
Like Jeanne, Max enjoyed doing things outside of the scope of his career. He was always involved in community works.
Life Spring Board, 1978-1987
Vice Pres., 1982-1984
President, 1984-1985
Camp Pyoca (Presbyterian camp)
Member of Board of Directors
Salem Presbyterian Church
Member, 50+ years
Served on the Session as a Ruling Elder
Presbytery of Ohio Valley
Committee on Ministry, 2005-2008
Elder Representative, 20+ years
Rotary International
Salem Exchange Club
St. Vincent Washington County Hospital Auxiliary
Auxiliarian of the Year, 2012
Washington County Foodbank
Friends of the Salem Library
Friends of the Salem Library Bookstore
When he is not working or volunteering, Max has a particular hobby that he enjoys. Having learned to garden from his mother, for decades he has grown large, beautiful gardens and shared his produce with friends and with needy families.
Max and his first wife Luann Brochen Bedwell had two children, Steve and Deanna, and four grandchildren; his twelve great-grandchildren are the joy of his life. He married Jeanne Shafer Apple in 1987 and has two stepsons, Jim and Dan Apple.