Diana Armstrong Apple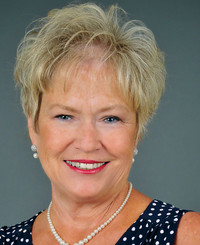 Philanthropy is a large word that holds a large amount of significance. While some people may go through life with little regard to the meaning behind this word, Diana Armstrong Apple has been a living example of what philanthropy truly is. Diana has been giving to Washington County in countless ways since she moved to Washington County. Many people used to know her as Washington County's State Farm Insurance agent. However, she is also known, respected, and loved for the many other ways that she has served those around her for so many years.
Diana Armstrong Apple was born to Edward and Betty Mason in Oakland City, Indiana. She grew up there as the only child of her parents. After graduating from high school in Oakland City, Diana began her college education at Olivet Nazarene College in Kankakee, Illinois. She had decided to pursue a degree in secondary education. However, following the completion of her second year, Diana got married. Therefore, she stopped taking classes and instead started a family. In 1969, she gave birth to her first son, Scott. Next came Todd in 1972 and then Amy in 1974.
Several years later, after moving to Washington County as a single mother of three children (who were 8, 10, and 12 years old at the time), Diana eventually enrolled at Indiana University Southeast to finish her college education. While still finding time to single-handedly care for her children, she attended school full-time. She remembers watching many of her children's games and activities with Shakespeare or another book she was reading for a class in her hand. After two years of determination and perseverance, Diana reached her goal of finishing her degree in secondary education.
While her degree might be in education, Diana Armstrong ended up taking a very different career path. She started serving Washington County as an insurance agent in 1984. Although this was not originally her career plan, she feels fortunate that the opportunity presented itself and that she has been able to serve from that position for so many years. After starting her business, it was not long before she gained the respect of many people in her community as the owner of a State Farm Insurance agency. Diana went on to be one of Indiana's top agents for 20 consecutive years.
Diana has now been helping many families in Washington County through her business for 28 years. She finds her job to be very rewarding each and every day, as she has been able to help countless families. Through selling life insurance, home owners' insurance, and automobile insurance, she is able to help people recover from many unfortunate and tragic situations in their lives. She states that her company strives to operate following the Golden Rule, treating the customers how she and her coworkers would want to be treated. "It's not really a job to me; it's helping people when they have a tragedy or an accident," she once said. "It all goes back to helping people, and this job ties into that." Because of the way she treats her customers, Diana has been the recipient of the Spirit of State Farm Community Service Award, which is chosen from over 5,000 agents.
Since moving to Washington County, Diana has enjoyed living in a small community. She also feels that it was the perfect place to have raised her three children, who all graduated from West Washington High School. Diana especially values the people of Washington County. A few of those individuals eventually became her family. In 1988, Diana married James Apple, a Washington County resident who had two of his own children.
Even though Diana has always had a demanding work schedule, this has not stopped her from serving and being involved in her community in numerous other ways. Diana has faithfully shown her love for Washington County through giving back. She is always willing to give of her time, effort, and money when she is aware of a need. "If people could just get involved in philanthropy, they could find that meaning that so many people are searching for in life. You get so much more back than you ever give," says Diana.
Diana has a passion for helping students receive a college education, and she has devoted a tremendous amount of time to helping the youth of Washington County reach their educational goals. After Diana and her husband had four children in college at the same time for six years, the two quickly realized how much of a financial strain sending students to college can be on middle class families. Her desire to help students further their education drove her to become one of the founders of the Salem Education Foundation, which provides many scholarships to Salem students each year. "I feel that education is the way for young people to improve themselves," she states. A large portion of this money comes from a fundraising event that Diana helps organize each year called A Taste of Salem, where local restaurants, companies, and individuals participate by setting up tables or donating items to a silent auction.
Diana has also served the youth of Washington County for many years in other capacities, including her service as the chairman of the Lilly Scholars program for Washington County. She has also been on the Salem School Board for eight years. While her children were in school, she served as an officer for the West Washington PTO, as a Cub Scout Leader, and as President of the West Washington Booster Club for three years. Diana truly cares about the youth of Washington County, and she recognizes that giving scholarships to students will continue to have a positive impact on the community for generations to come.
Diana is involved at Southern Hills Church, where she has been a member for 13 years. She also served her community on the Washington County Community Foundation Board for nine years, which was as long as the term limits would allow. During this time, she was the board's president for two years. Diana now has 11 grandchildren. Seven of these grandchildren, as well as her son Scott and daughter Amy, now live in Texas. Even though they are many hours away, Diana still makes visiting them a high priority.
Each day, Diana Armstrong Apple shows those around her how much she cares. She is a true example of the positive impact that one individual can make when they give of themselves to others. To honor her service to her community, Diana was named the Washington County Woman Philanthropist of the Year in 2007. Her generosity will also be remembered through the James and Diana Apple Fund in the Washington County Community Foundation, which she began in 2002. Diana was moved to start a fund after serving on the board and realizing what all the Washington County Community Foundation means. "When you give money, it's there forever and ever," she says. Because of her giving spirit, this fund will continue helping the people of Washington County for many years to come.