Jack, Sheri and Doug Rowland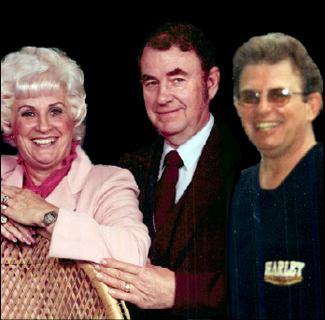 How will we change the world? When ordinary people do extraordinary things.
First, let's examine some ordinary people who lived in Washington County: Jack, Sheri and Doug Rowland.
Jack: Jack was born in Tennessee to Wally and Dora (Brooks) Rowland on March 31, 1928. He had four brothers and two sisters. Jack was 11 when the family moved to Hardinsburg, IN. He attended Salem High School but as was quite common at the time, he did not graduate. Instead he went to work and started his journey to be a self-made man. For a while he lived in Michigan with an aunt so he could work. Eventually he made his way back to Washington County, where he would reside for the rest of his life. He landed a job at National Homes in New Albany, which manufactured prefabricated homes. He actually dismantled one and with the help of his brother, reassembled it in Washington County and lived in it for many years.
He left National Homes to work for Reliance in Louisville. He worked there for many years and had to travel quite a bit for his job. Despite not having a high school diploma, Jack managed to work his way into management positions, a testament to his work ethic and ambition.
Jack was generous with his time and talent. He helped a niece and a nephew build onto their homes.
Jack was a character. He taught his sister-in-law, June, to dance. When she told him she did not know how to do the twist, Jack replied. "It's easy! Just pretend you're are drying yourself off with a towel!"
After retiring from Reliance, he still was not done. He worked for John Jones GM City for many years primarily picking up and delivering cars. He left that job, his final job, when he was about 90 years old in order to take care of Sheri, whose health was failing.
Sheri: Edna Sheriann Rousey Rowland was born in Washington County on July 30, 1928. She attended Salem High School and graduated in 1946. After high school she did some modeling in French Lick and throughout the region and then attended Beauty School. She also worked part-time at Buds Jewelry. She loved jewelry and had many fine pieces of high end jewelry as well as costume jewelry. Also a hard worker, Sheri was a caregiver to elderly shut-ins almost up until the time that her health started failing. In her spare time when she was not working or raising their son, Doug, Sheri enjoyed painting, knitting, crocheting and making jewelry. She was very artistic.
Sheri struggled with a failing heart for about five years. She passed away just shy of her 91st birthday.
Doug: Doug was the son of Jack and Sheri. He graduated from Salem High School and then began working for the state where he would travel around inspecting bridges and roads. Sadly, Doug experienced a massive stroke when he was in his 40's. He had to re-learn how to walk, talk, eat and perform all activities of daily living. He worked very hard to regain a normal life, but the effects of the stroke never fully went away. Doug lived many years after the stroke. He detailed motorcycles for people. He lived next door to Jack and Sheri and one morning they discovered that Doug had died peacefully in his sleep.
Doing something extraordinary- Jack, Sheri and Doug were in many respects "ordinary" people. They were the friendly neighbors next door willing to help at a moment's notice. They were hard-working employees who were highly valued by their employers. They were very nice people…. Yet, they did something extraordinary. They gave back in a big way. Through their combined estate they left gifts to ten nonprofits, most of them in Washington County, and also created a fund in the Washington County Community Foundation. Their generosity was extraordinary. Their impact will be felt for generations to come. They are going to help people they do not know. They are going to help people a hundred years from now. Their hope for future generations in Washington County: Live life to the fullest.
Jack, Sheri and Doug were extraordinary.