Jo and Jerry Barnett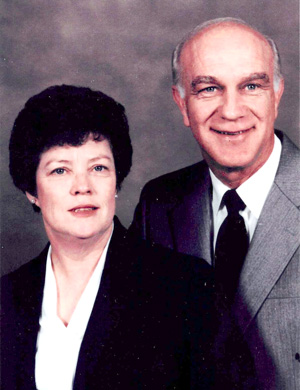 When it comes to the health of Washington County, most people know of Nurse Jo.
Ruby "Jo" Barnett was born in Somerville, Indiana to George and Maxine Eckert on the twenty-first day of November. Her brother, James, and sister, Silvia, grew up in Huntingburg, Indiana, a small town on the outskirts of Jasper.
Jo is a graduate of Huntingburg High School. A cheerleader in school, she developed a love of teaching and helping others. This love propelled her to continue studying after high school at the Deaconess School of Nursing in Evansville, Indiana.
Jerry Barnett, Jo's husband, was a graduate of Dale High School located just south of Huntingburg. Born to Alberta and Durward Barnett on the fourteenth of April, Jerry was very business-minded from an early age. When he wasn't in class, Jerry helped operate a service station in Dale. This was a perfect transition to his job as a manager for G.C. Murphy, a five and dime variety store in Huntingburg, shortly after graduation.
The Barnetts were married in Indiana in 1959, but soon after were on the move to Arkansas. Jerry had been called up by President Kennedy to help train troops during the Cuban Missile Crisis at Fort Chaffey. Jo went with Jerry and worked as an Obstetric Staff Nurse in Fort Smith, Arkansas.
In 1962, Jerry was discharged from the Army. He decided to take a transfer from the Huntingburg G.C. Murphy to become assistant manager at Salem's G.C. Murphy location. Jo followed suit and began looking for work in Salem. There was a woman from Jo's hometown that was married to a local doctor who was looking for additional staff. That doctor was Dr. Eddie Apple.
As the couple settled into their new Washington County residence, they began to pursue their passions. Jo began her work with Dr. Apple but she also served as an in-service instructor, an educator and Director of Nursing at the Williams Convalescent Center, an assistant instructor for Prosser Vocation Schools in New Albany, and ultimately culminating in to the Public Health Nurse of Washington County.
Jerry had a passion for cars. In 1968, he left Salem's G.C. Murphy to join Dougherty Motors Sales. This was an introduction for him as he went on to establish his own business called Jerry Barnett Motors. In 1983, he sold his business and worked briefly at the LeMarr Farms and then at Lido Meats.
In 1985, Jerry worked at the State Bank of Salem and later served as the Branch Manager until 1993. During this time, Jerry served as the President of the Washington County Chamber of Commerce for two years. He was also on the Board of Directors of Washington County Economic Growth Partnership, belonged to the American Legion, and was an avid sponsor of women's sports. After leaving the bank, Jerry purchased and operated the Northside Home Improvement Store until he retired in March 31, 2010.
As Washington County's Public Health Nurse Jo was also heavily involved with the community. She was an officer for the Washington County Substance Abuse program, an officer for Prevent Child Abuse program, a member of the County Protection Team, an officer for the County Service Providers program, an officer for Southern Indiana Public Health Association, and an officer and six-year co-coordinator for Kid's Day at the local fair.
She has received local and state awards that include Indiana State Public Health Outstanding Distinguished award, the Indiana Community Drug Free Youth Award, Washington County Service Provider Award, Indiana University Southeast Nursing Achievement Award, and was named Chamber of Commerce Citizen in 2001.
"I loved teaching the kids." Jo said. She even established multiple programs for the Amish community and their children that are still active today. She implemented the Immunization Clinic at the health department which resulted in yearly awards from the State Board of Health.
Jerry was a father-like figure to many young men and women in the county but he was also a father. Jo and Jerry had two daughters, Jodie and Jill. They also have two grandchildren, Miranda and Christopher.
The family is also connected to a church family in Salem Presbyterian Church since their first service in 1963.
Jerry passed away on September 19, 2015. The Barnetts first learned about the Community Foundation through the Veryl Audrey Mount Estate that directed scholarships to the three Washington County Schools. As it morphed into the Community foundation Jo felt called to connect. They established a fund to help take care of people they will never meet. So, in the future they may still know of Nurse Jo.