Richard and Marcia Grassmyer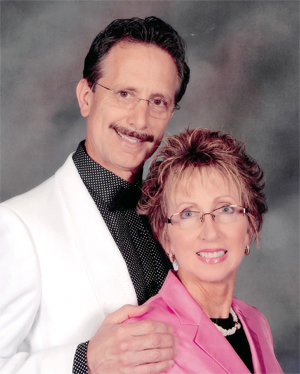 Although they were born almost a continent apart, Richard and Marcia Grassmyer met in the heart of the Midwest and put their hearts into helping those in Washington County.
Richard was born September 21, 1954 in Coronado, California, but spent his childhood in Madison, Indiana. One challenge Richard faced early in his life was a family separation, but he kept is focus on college and professional studies. "I had the typical small-town Mid-American childhood experience", recalls Richard. He attended Purdue University, majoring in Science and received his DDS from the Indiana University School of Dentistry in Indianapolis where he met Marcia.
Marcia was born in Pittsburg, Pennsylvania to George N. Richardson, Jr. and Janet Fehse Richardson. The oldest child of three. "I really enjoyed my childhood. I lived in Pennsylvania until after the 3rd grade, then my father moved us to Salem. My parents were there during my important formative years. Their support made me the person I am today," recalls Marcia. "I pushed everything to the limit and survived it all. I can remember figuring out that I could climb on top of the old buildings at the Washington County Fairgrounds then run and jump from building to building. It was great fun!" One of the biggest challenges Marcia faced was caring for her parents through the end of their life. "I promised them I would keep them at home as long as I could. I was able to honor their wishes to die at home." Marcia has survived stress like this and other "learning opportunities" by reminding herself that "I will not be given more than I can handle."
Marcia graduated from IUSON with a BSN degree. She earned her Master's Degree at Webster University. "I worked full time and earned a Master's Degree at a time when very few nurses got an advanced degree. There really wasn't much support. I had to prove my business ability in healthcare, not just my nursing ability. I have always been grateful I had the opportunity to do so much research as a young nurse on heart transplants…which led to the first human heart transplant in Indiana." She and Richard met at the IU Medical Center pool. Marcia remembers, "We just kept running into each other after that until we had our first date." Richard and Marcia are still swimming laps and run the Washington County Family YMCA morning lap swim program.
They married December 27, 1980 and continued to live in Indianapolis for a brief time. From Indianapolis, they moved to San Diego, California. From San Diego, they moved to Okinawa, Japan while Richard was active duty in the Navy. Richard served eight years active and 12 years reserve duty. After living in Okinawa for four years, they returned to California, and then moved to Salem.
After making their home in Salem, Richard and Marcia welcomed their son, Michael Alan Grassmyer. Richard explains, "My wife and son helped with accomplishing a better maturity and more patience." Michael graduated Cum Laude from the University of Evansville with a degree in Biochemistry. He then completed the MBA program at the University of Louisville where he graduated with honors. He is currently employed in Indianapolis at Capital Group, the American Funds investment company. "We raised our son in a Christian environment. I hope our examples will instill in him the ability to rely on his faith not only in good times, but tough times as well. I hope he will have fond memories of growing up in a stable environment with the expectation of always being your best and doing what is right. We hope he remembers a solid family experience and small town memories." One bit of advice Richard has passed on to Michael is to "always follow the truth, and then adjust your beliefs accordingly."
Richard and Marcia have many varying and interesting hobbies including dancing, swimming, flying (Richard is a pilot), and travel. Marcia also enjoys gardening as she enjoys having a nice yard. Marcia exclaims, "My favorite thing to do in the world at this time in my life is dance with my husband, especially when he remembers all the leads!" They also attend Salem United Methodist Church where they run the soundboard for worship service. Marcia is now retired, but taught nursing courses at Prosser Career Education Center. A saying she would share with students when times were tough was, "You can visit 'Pity City', but you can't live in it." Richard is a dentist in Salem as well as Board Member of the Community Foundation. He believes in "being faithful in small matters and doing work today because tomorrow will have something else to accomplish."
Richard and Marcia care about the present and future of Washington County. "I have worked and lived in places where I would not have wanted to raise my child. I feel it speaks volumes to say that the atmosphere in Washington County is safe. It is also a pretty place," explains Marcia. Richard went on to say, "Washington County has been a good place for us as a family. We always feel it is important to give back. A fund with the Foundation is a way to give back in whatever way the money is needed to support the place where we live. We started the Washington County Aquatics Fund to promote swimming as an activity for all and the Touch Tomorrow fund to provide for local needs as they arise overtime and in perpetuity. It will be used in ways we may not be able to imagine to improve the county that has been home." Richard and Marcia have also remembered Washington County in their estate plan through The Morris Society. "It is so important for the future." Marcia's advice for the Washington County is "to find it in themselves to support the organizations we have that work to make our county the best it can be."