Jack and Carol Mahuron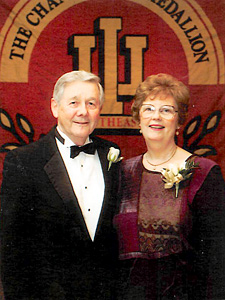 Although Jack and Carol Mahuron have been all over the world, there's no place they would rather call home than Salem, Indiana.
Jack has been to all seven continents; Carol six. They've enjoyed getting to see the world, but Carol said no matter how much fun they had or how beautiful the country, they always looked forward to getting home.
Their passion for the town they were both born and raised in is one of the many reasons the two started funds with the Washington County Community Foundation – that coupled with the fact that Jack served on the founding board for the Foundation.
There are three funds within the Foundation that support causes close to the Mahurons' hearts. One involves the First Christian Church and the Washington County Historical Society, another is for Indiana University Southeast (IUS), and a third supports education in Washington County schools.
Jack said the First Christian Church and historical society fund was the first fund ever set up with the Foundation and he and Carol gave the first donation to get the Foundation started in 1994. He said the fund was created because the church and the historical society have been important to both Carol and himself since their marriage began.
"We felt we wanted these two things to always have some sort of income," he said.
The education fund was started in Jack's honor by the Washington County Community Foundation's board upon his leaving the director's position after volunteering for eight years.
The third fund, the Jack and Carol Mahuron IUS scholarship fund, was started in their honor because IUS means a lot to the couple and they fully support the school's efforts for growth.
"We promote the school a lot," said Jack. "It's been great for the area. I think it will be a huge campus one day."
The two were so involved with the school that in 2003, Jack was awarded the Chancellor's Award for his community service and service to the university.
But despite these incredible things they have been able to do, Jack and Carol both had a modest start in the world.
Carol was born to Oral and Estelle Corn Baker on August 23, 1933, in Salem. She had two younger brothers, Robert and Dale Baker.
Carol learned to value hard-work at a young age. When she was in the eighth grade, she began working at Olly Anderson's grocery store. She said, "Back then, you did a little bit of everything." She worked there until she graduated from Salem High School in 1951, with a class of around 95 students.
Although she worked often, Carol has many fun memories of going to the movies or going roller skating with friends at the old rink that was in Salem.
Shortly after she graduated, Carol spent some time in Indianapolis. Her cousin who worked there at the time helped her get a job at John Hancock Life Insurance. However, it wasn't long before Carol decided to return to her hometown. Thinking back on the decision, she said, "I didn't like a big city."
Back in Washington County, Carol worked at a local accounting office, which is where the story of the Mahurons begins!
Jack and Carol met while he was working at the bank and she was at the accounting office. He stopped by the office on his way to the post office nearly every day to talk to a friend, Vera Trinkle. Eventually, he and Carol started dating and on December 5, 1958, the two were married in Salem. Jack was 32 and Carol was 25. Carol couldn't help but like Jack from the moment they met. She said, "Jack is a people person. It was easy to like him and easy to know him."
Carol said that she worked until their son John was born in 1960. She then was a stay-at-home mom for six years. That same year, the couple opened a restaurant, Jerry's, on Jackson Street. They also began developing Fair Acres subdivision and Carol kept the books for both business endeavors. Jack and Carol had the second home built in Fair Acres.
Carol said Jack came home one day, when they lived on Lincoln Avenue, and asked how she'd like to live in the subdivision and she said that would be fine.
He said, "Good, because they are going to start building in the morning!" Carol remembers, "He already had it planned."
She said Jack told her that one day they would build again and she could design the home, but that never quite happened!
Later in her life, after having her second child, Carol returned to work and was employed at Apple Drugs (which later became Salem Apothecary) for 35 years. She was in charge of bookkeeping and accounting. She retired at the age of 73.
Although Carol has worn many hats throughout her life – daughter, mother, bookkeeper, wife and the list goes on – there is one more title that she humbly holds: volunteer. Carol is very active in the community, volunteering at the Washington County Food Bank, the hospital auxiliary, and serving on the CASA Board of Advisors. She is also a member of PEO, First Christian Church, and the Washington County Historical Society, and has served on the Council of Visitors for Ball State University and is part of the Friends of Beck's Mill, Inc.
In all of these endeavors, Carol seeks to serve people in whatever way she can. Whether that is by helping run the gift store at the hospital or organizing a fundraiser, she truly strives to make things better for those around her. She is the embodiment of a true servant's heart and a woman of great integrity. "My mantra," she said, "is trust and obey." It is easy to see the importance of her Christian faith in her life, as it is reflected in everything that Carol does, and it overflows from her heart.
Carol does not stand alone in this, though, because behind all of her efforts stands a supporting husband. Jack was born October 30, 1926 to John and Bertha Akers Mahuron. He was born at home on Jackson Street, delivered by Dr. Huckleberry.
"That was back when you born in the home!" he said. Jack had one brother and one sister.
Jack is one of the many pillars of the Community Foundation. During his tenure as executive director, the Foundation grew to around $6 million. After serving as executive director, Jack was on the board of directors for nine years. His time on the board ended June 30, 2010.
Jack graduated from Salem High School in 1944. Although he did not earn a degree, Jack took classes from Clemson University during his time in the military.
He spent his career at Farmer Citizens Bank, where he worked from 1946 to 1992.
"I worked my way from file clerk to president and chairman of the board," he said.
Jack, too, was an advocate for making a difference and being involved in the community. Throughout his life, he has served on many committees and boards, always dedicating his time and energy to the betterment of Washington County. He was never confined to one service, but was active all across the board


President:
Life Spring
Wash. Co. Historical Society
Wash. Co. Fair Board
Wash. Co. Community Foundation
John Hay Center Foundation
Hoosier Youth Challenge Foundation
Member:
IN Guard Reserve
Draft board during Vietnam War
Board of Advisors at IUS
Council of Visitors – Ball State University
Council of Visitors – Wash. Co. Hospital Foundation
Masonic Lodge & Scottish Rite
Other:
Chairman – Washington County U.S. Bonds
Treasurer – March of Dimes
Commander of VFW & American Legion
Employer support of the guard and reserve
Volunteer firefighter for 40 years


When thinking about how one man could do so much, he said, "I had a job that allowed me to get involved in the community."
Jack spent 30 years in the Air Force and 12 1/2 years in the National Guard. The majority of his service was in the reserves. During his time in the guard, Jack said he was the top recruiter in the state of Indiana four years in a row.
"They took Carol and me to Washington, D.C. to receive the awards," he said.
In 1964, Jack, who was the director of the chamber of commerce at the time, was the chairman for the Salem Sesquicentennial.
"We brought the largest crowd to this town that [had] ever been here – 35,000 people," said Jack. "We had a great time during that period. We all enjoyed it!"
Carol said they worked more than a year planning for the event. She said everyone celebrated and really got into it. "There was a two-hour parade with big floats and everything!"
"It was really a great time!" said Jack.
Jack was named Citizen of the Year that same year. "I remember I told everyone there that I had neglected my family for a year, putting that thing together, and there Carol stood beside me pregnant!"
While Jack enjoys flying and photography, Carol enjoys reading and volunteer work. However, they both love to travel and have been across the Atlantic at least 10 times.
"We've been on several of the major rivers and the Great Wall of China," said Jack.
Despite all the areas of the world they have visited, Jack and Carol have made their biggest impact on the community they were both born and raised in.
"I feel we've made an impact on life in Washington County, especially by helping to found the Washington County Community Foundation and I've served in the military and done a lot for kids in the Hoosier Youth Challenge Academy." HYCA is a quasi-military modeled training academy to help youth who have dropped out of high school or severely lack credits needed to succeed. Jack continued, "So although in all probability we won't be remembered except for our names on a bunch of plaques around the community, nevertheless, we feel that we've done good," said Jack.
Carol added, "I'd like to think our grandchildren will remember us and know that we've had an impact with them. I hope they see what we've done for the community and it will be an example for them."
Carol says that she and Jack are proud of their family. She hopes to pass down traditions to them that the couple has cherished, so that her eight grandchildren can remember. She told of how, every Sunday, she has all of her family over for dinner after church, to eat and spend time together. This is "leaving a legacy for them," she remarked, "because it's unusual for families of our size" to do that nowadays. "I want my grandchildren to remember how every Sunday they went to Mamaw and Papaw's."
So, whether they are being called President or member, employee or volunteer, Mamaw and Papaw, or anything in between, it is certain that Jack and Carol Mahuron will always be treasured and loved. Their influence in Washington county, where the "roots are so deep," according to Carol, is like a seed that has been planted and will forever grow.
Jack passed away on January 7, 2023 but his Legacy will live on forever.