John Roberts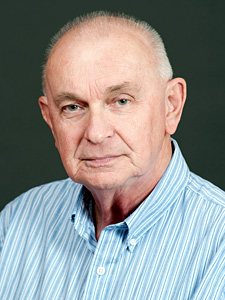 "Stardust" was the first song John Roberts' mother heard him play on the piano. His sister had been taking piano lessons while he was in the 4th grade. He was too young to drive, had already done his homework, and the weather was too bad to go outside so he watched his sister and then began tickling the ivories himself. Music would always remain a primary part of John's life.
John was born to James and Edith Roberts in Pekin, Indiana on September 15, 1946. John recalls living close to the "old" Pekin School. In fact, he walked to school and in the summer he would go to the gym or play baseball in the field. He remembers coming and going as he pleases, not having a bicycle helmet, drinking out of a garden hose, and riding in the back of a pick-up truck. "As long as you got your chores done, no one really worried." John also remembers that almost everyone went to church when he was younger and he lived in a caring neighborhood. "People don't have that anymore," he expressed. As a child, John also visited his grandparents, aunts, and uncles. In fact, he had a great aunt on State Street in New Albany that had a boarding house. "It was like being in a hotel," recalled John. It wasn't all fun and games growing up in the 50's and 60's though. One chore John recollected was laundry. "You had to ring it out, run it through the rinse water, ring it out again and hang it out on the clothesline."
John played several instruments in the high school band including the clarinet, trombone, and oboe. Later, he learned to play the saxophone. As a teenager, John was an active member at his church youth group and played piano full-time at Blue River Baptist church before heading off to college at IU Bloomington in 1964. John remembers the importance of education was stressed in his house. "It was your job to go to school to get good grades and get out and get a productive job." John worked in college as much as he could. Not necessarily to pay for classes, but to buy books and have running around money. He graduated from IU Bloomington in 1968 with a BS in education and graduated with his master's of education degree in 1973.
John's first job out of college was to teach at Eastern Junior/Senior High School. He taught social studies and English for 11 years. His most memorable moments are after students graduate from school and see him later, they had finally "learned" something and recalled something from his class. John remembers he and MarjiAnn Souder teaching citizenship. They would teach students about voting, giving blood, and being good citizens.
After leaving the teaching profession, John became the advertising manager for Green Banner Publications in 1979. There he supervised a sales staff. When John first arrived at Green Banner, there were two papers, now there are five. He started out with two sales representatives, and we he retired in 2008, there were six. Some of the biggest changes in the printing industry were the massive growth (55,000 papers per week) and technology changes. "We started with typesetting and then photographic typesetting, now it's all done on the computer and through Internet and e-mail."
John has always kept busy while he was working and through his retirement. He has served with the Pekin Lions Club and the Pekin Community Betterment Committee. He was active in grassroots politics. He worked his first election in 1972. "It started at 5am and we didn't get home until 1am the next morning, but we did get paid $13 for the day," recalls John. John service also includes the board of the Washington County Community Foundation and the River Hills Economic Development Board. John is also a life member of the Hymn Society of America.
John has always lead a busy life, but never too busy for music. It started in the 4th grade, playing "Stardust" and has continued for the rest of his life. In 1976, Bernice Armstrong recommended him to play for the Salem United Methodist Church just to fill in. Over 30 years later, John is still playing hymns like his favorite "When I Survey the Wondrous Cross" at the church on the piano and organ and while directing the choir. John has been the pianist for the Madrigal Singers since 1977. He has been the pianist for the Washington County Actors Community Theatre productions and the nursing home. Most recently, John plays the piano at the Senior Citizens Center.
Yes, music has been a large part of John's life. Future generations should remember John as someone "who really cared about the community and wanted to see it improve and as someone who loved music, the church, and church music."
"If everyone would donate their time and energy to those least able and least deserving," the world would be a better place.