Ron and Pam Haendiges
Ron and Pam Haendiges Have a True Desire to Serve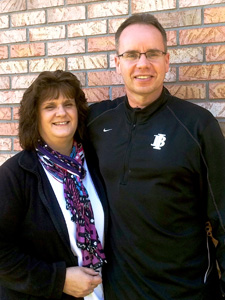 Many of the people who leave a large mark on this world are the ones who pursue a career out a desire not to advance themselves but instead out of a desire to truly serve those around them. Ron and Pam Haendiges are two individuals who have truly used their careers and their time to make a positive difference in many lives.
Ron Haendiges was born to Ron Sr. and Mary Ann Haendiges in Louisville, Kentucky in 1964. His father was an executive at the Ralston-Purina company, the former American manufacturing company of animal feed, cereals, and packaged foods. He grew up with one sister, Michelle (Mickey) Haendiges. During his high school years, his father was an executive at the company's plant in Memphis, Tennessee, where Ron went to high school and graduated in 1982.
Pamela Haendiges, formerly Pamela Bills, was born and raised in Washington County. She was born in Salem to Gene and Barbara Bills in 1963 and grew up with an older brother, Kent; a younger brother, Kevin; and a sister, Gina. She attended Salem High School, graduating in 1981. She recalls enjoying growing up in a small community such as Salem. She has many fond childhood memories of her and her siblings playing outside from sun up to sun down, building tree houses and forts by the hours.
Ron and Pam first crossed paths when Ron made his way to Indiana University Southeast, where Pam was attending school to earn her degree in elementary education. Pam had wanted to be teacher since before she even entered elementary school herself. As she grew older and continued working with children in many capacities, she became more and more sure that this was a career path she would greatly enjoy. Therefore, she decided to follow her calling and attend IUS to become an elementary teacher. Ron had also known what career path he wanted to pursue. He had a passion for the investment business and for helping others financially. He knew that he wanted to take this passion and turn it into a career that would serve many people. Before leaving IUS, he obtained his bachelor of science in management.
Ron and Pam formally met in the late 1980s. They were introduced by mutual friend Stephanie Scifres, who Ron had worked with while at a bank in Salem. Stephanie's introduction turned out to be good idea, for the couple would marry in August of 1988. Several years after marrying and residing in New Albany, Ron and Pam made their way to Salem in 1993. Pam had already been teaching there for many years. She was hired as a second grade teacher at Bradie Shrum Elementary in 1985. She only taught second grade for two years before moving to first grade, which she has stayed with for the rest of her career. She has greatly enjoyed working with children for the past 27 years. "The students come in very limited and then leave with a solid foundation, which is exciting as a teacher. Teaching has been a huge part of my life and a huge part of who I am," she says.
Ron received his M.B.A. from Webster University and worked as a management consultant for many years, consulting numerous companies and small businesses throughout the U.S. and Canada. While Ron greatly enjoyed this job, it always involved a great deal of travelling and time away from his family. In 2002, he made the decision to change directions and become a financial advisor. He later pursued and obtained the designation of a Certified Financial Planner and has now worked as a financial advisor in Washington County and surrounding counties for ten years. "I enjoy helping people obtain their financial goals and dreams as well as be able to retire financially comfortable," Ron states.
Before moving to Salem, Ron and Pam were blessed with the birth of their first son, Trey, in 1990. Ten years later, they had another addition to their family, Xavier. Both Trey and Xavier have kept the family busy for many years through various activities. Trey was involved with both basketball and baseball while in school, playing on school teams as well as in other competitive leagues. It was little surprise to Ron and Pam when Xavier followed in his brother's footsteps. The family now spends many evenings and weekends travelling to watch him play. They have had a great deal of fun watching their sons enjoy their sports and find success from their hard work. Recently, they were given the opportunity to watch Xavier's Indiana Bulls baseball team be named National Champions. Xavier will be entering into sixth grade at Salem Middle School this year, and Trey will finish up his schooling and begin his career after graduating from Indiana University Southeast in May of 2013.
The Haendiges family has been involved at Mt. Tabor Christian Church for many years, showing their commitment to both their church family and to being servants of God. Ron has committed a great deal of time to serving his church family as an elder. Ron has also dedicated a great deal of time outside of his career to serving his community in numerous ways. He has been a member of the Salem Exchange Club for many years, is currently serving on the Salem City Council, and was a board member for the Washington County YMCA and Youth First of Washington County.
In an effort to give back to their community, Ron and Pam made the decision to start the Ron and Pam Haendiges Youth Development Fund through the Washington County Community Foundation in 2008. The couple has a desire to help the young people in this area who have to live under distressed conditions of any sort. "This fund was an effort to help the youth in our county," they say. "It is just a small part we can do to help give those children a foot up." They have strong desire to be good stewards of what God has blessed them with through their hard work. "It is our responsibility," they simply say. Their hope is that this fund will help give children something positive in the midst of a challenging world. Thanks to their desire to give, the Ron and Pam Haendiges Youth Development Fund has been and will continue to benefit the youth of Washington County.