Garland and Norma Sue White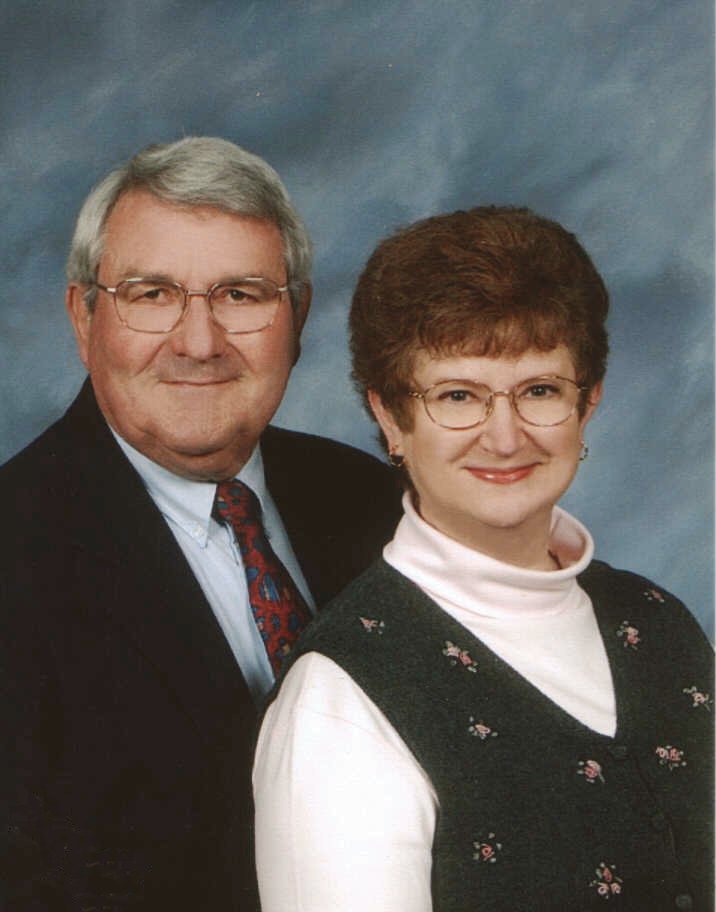 Some couples slow down when they retire. Not Garland and Norma Sue White. If anything the hectic scheduled they maintained throughout the first twenty-seven years of their marriage became even busier after they sold their business. However, now their time is spent serving their community.
Garland was born at home on December 23, 1932 in Spencer County, Indiana to Russell H. White, Sr. and Mildred (Trinkel) White. He was the second of five boys, who were separated by 5 years and 11 months. Life was tough in those years. Their farmhouse had no electricity and running water. "I saw my mother's knuckles bleed washing overalls on a scrub board," recalled Garland. "In 1946, Dad sold a cow and bought Mom a gasoline powered washing machine. We got electricity in 1948."
Garland attended school at Midway Grade School. It was a four-room building and housed about 110 school children in grades 1-8. Prior to "electrifying" the building in 1941, the school used a gas generator to provide light in the classrooms, but "only on dusky days."
As a child filled with energy, Garland spent many hours in the school library reading in what by today's standards would be considered "timeout." " I had read almost all of the books in the library by the time I graduated." While attending Chrisney High School, Garland read through two sets of encyclopedias during study hall. "Education is an art and a science," explained Garland. "My father had strong feelings that all of us boys should finish high school. He believed that we would 'learn how to learn' and he also made sure we were strong in math and typing."
Garland spent many hours helping out on the farm. They raised hogs, cows, and a huge garden that would sustain the family year round. "We didn't have any money, but we were rich," explained Garland. Every Thanksgiving, the family celebrated with a huge Thanksgiving dinner. Garland's mother prepared seven chickens and dressing and also seven pumpkin pies. Everyone got one pie and one chicken and they shared a huge crock of whipped cream for the pies.
Garland graduated in 1950, the same year his father sold the horses and bought a tractor. Garland worked at a Ford tractor dealership for two and one half years while also serving in the Navy reserves. In total, he served two years active Navy and four years in the reserves. Garland served in the CB, the construction and engineering arm of the Navy.
In 1954, he joined Spencer County Coop, where he worked as a farm machinery mechanic and then went into sales. In 1957, he decided to move to Florida in pursuit of a better paying job. While in Florida, Garland and his brother established an awning manufacturing company. At the peak of their business they had 25 employees. In 1967, they dissolved the business and Garland moved back to Indiana, where he went to work for Olin Corporation.
By 1970, Garland was in charge of all the personnel on three shifts, including labor relations, grievances… Eventually, he became the Manager of Project Planning, reporting directly to the Plant Manager.
Norma Sue was born July 23, 1949 in New Albany, Indiana to Harold E. and Esther May (Zahnd) Peters. Norma Sue was an only child. She attended Crawford County Elementary and High School. "I like to think out of the box and find new ways to do things," states Norma. "Our Senior class was the first to go to Washington DC for our senior trip instead of the Smokey's and we were the first to have our prom at the country club instead of the high school."
While growing up, Norma Sue was very active in 4-H, (she was a member for ten years and was President of the Junior Leaders). She was also very active in the Key Club.
Norma Sue worked part time as a secretary at Standard Oil while in school and after graduating, she started working at Olin Corporation, where she met Garland. She worked in several clerical positions where some of her many talents were put to good use. She typed 130 wpm and took short hand at 90 wpm.
She and Garland met at work and were married on May 28, 1971. They started their business, Specialty Products Company, after the closure of Olin Corp in 1972. Actually, Garland was instrumental in the plant closure process. He was the last employee out the door. "We never looked back. We just kept on going," stated Garland.
In 1975, they moved to New Salisbury and lived there for 26 years, while building their business, which consisted of home improvements, windows, siding, carports, sunrooms and any type of exterior work. In 1979, they expanded and built a building and warehouse for their business. By this time, their service area had expanded to a 70-mile radius. Garland was responsible for the marketing and production management. Norma Sue did all the administrative work. "We divided the work," explained Garland. "She did her specialty and I did mine." During that time, Norma Sue also did volunteer work at the church. She played the piano, ran the youth choir, taught Sunday school and was an elder. Then she was called to regional work and was involved with over 220 congregations. "She was the Secretary of the Regional Board, then became Vice Moderator and then Moderator, which is the top elected official in the state for lay people," Garland explained proudly.
Garland turned 65 in December of 1997 and five months later, in 1998, Garland and Norma Sue sold their business, although retirement does not seem to be in their vocabulary. Garland stayed on as a consultant to the new owner. Then, in November of 2000, Garland and Norma Sue moved to Salem and bought a house, which they promptly began to remodel.
Prior to moving to Salem, Garland and Norma Sue joined the First Christian Church of Salem in 1999. Three weeks after joining, Norma Sue became the Youth Choir Director. In 2000, she became the organist. "I agreed to play the organ for two weeks, while the current organist went to Arizona. He never came back," Norma Sue explained. In 2002, Norma Sue became the Evangelism Chair and in August of 2003, she became the Director of Congregational Ministries. She is now a licensed minister. "Norma Sue had always wanted to go the seminary," explained Garland. "She got derailed due to her father's health problems and then my parents health failed. She finally got the call."
Garland has become increasingly busy as well. He joined the Rotary and was the driving force in initiating the annual Rotary Toasts, which have become a signature event in Washington County for the Rotary. He also has been the project manager for the construction of the Community Learning Center. "Garland has been the key person in the construction," stated Judy Johnson, Executive Director of the Washington County Community Foundation. "I truly don't know what we would have done without him. We were so fortunate to have him volunteer to help us. His experience and contribution to the project has been invaluable."
In December of 2003, Garland and Norma Sue established their Touch Tomorrow fund in the Foundation. As an unrestricted fund, it will continue their community service philosophy. "We are not done," stated Garland. "We just wonder what is next."