Fox and Kristy Purlee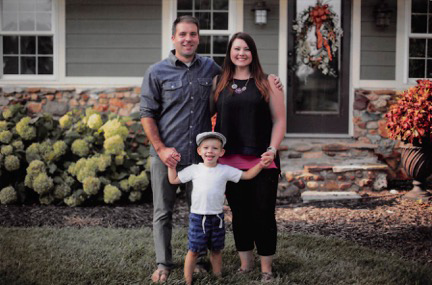 Paul Bloom, a renowned psychology professor, once said, "The key to the happy life, it seems, is the good life: a life with sustained relationships, challenging work, and connections to community." There is no better example of a life lived by this philosophy than that of Fox and Kristy Purlee.
Fox was born in the small town of Salem, Indiana on October 2, 1976 to Rick and Marion (Cotrell) Purlee. He was the oldest of four children, with three younger brothers – Dylan, Forte, and Journey. As he was growing up, both of Fox's parents worked. He and his brothers spent much of their childhood at their grandparent's home in Canton. Fox remembers spending many days outside in the country air and splashing through the creek in the woods. Because Grandma was their babysitter, the boys didn't grow up around a lot of other kids outside of school. But for Fox, that was OK; that was the picture of his early childhood.
He also remembers going on many "arrowhead hunts" with his father. When he was growing up, they would go hunting through corn fields and rivers for Indian artifacts. Years later, Fox said, "The entire collection is something to be proud of." It is a hobby that he carried into adulthood, with hopes of continuing the tradition with his own children.
Kristy, on the other hand, had a bit of a different story. Kristy was born in Louisville, Kentucky in August of 1979. She was born to Brad Wike and Karen (Powell) Morgan. For much of her life, she was an only child. However, around age eleven she welcomed her step-father, Dr. Jeff Morgan, into her life, and eventually two new siblings, Brooklyn and Jacob Morgan.
When she was born, Kristy's parents lived in a neighborhood in New Albany, Indiana. Thinking back on her childhood, Kristy said, "Life existed around who the kids were in the neighborhood. We would play in packs." Whether she was playing kickball in someone's backyard or riding bikes around the neighborhood circle, activities and fun with other kids was always right outside her front door.
But when she was eleven years old, things suddenly changed for Kristy. Upon the marriage of her mother and step-father, Kristy's family moved to Salem. Going from a neighborhood that was close to everything to a rural country home was a culture shock for her. Kristy said, "I didn't know what I was going to do!" Additionally, she was also transferring from the familiar Slate Run Elementary School on Charlestown Road to the completely unknown Salem Middle School. It took a little while, but eventually Kristy got used to switching classes and spending two hours of her day riding the bus to and from school. "I was just trying to fit into middle-school," Kristy recalled. But the biggest thing, she said, was "just kind of getting used to living in a small town."
Just a few years before Kristy arrived in Salem life also began to change for Fox. When he was eleven, his grandparents, Orval and Odetta Purlee, bought a small convenient store in Canton. They named it "Fox's Country Corner Store," after their grandson. Fox said, "After that, everything revolved around the store." After school, he would run through its doors and begin helping his grandparents with whatever he could. Throughout his teenage years, he spent his summers working there. "I started running the cash register when I was eleven," he remarked.
When he graduated from Salem High School in 1995, Fox still wanted to be able to help out at the store. So, he enrolled for his first year of college at Indiana University Southeast in New Albany, where he could commute. It was a good opportunity for me to "get my feet wet," he said. After two years at IUS, he decided to transfer to Indiana University in Bloomington to study Finance. "The biggest adjustment was just living away from home," Fox remembered. "But, starting at IUS first turned out to be one of the best decisions I ever made." He graduated from the Kelley School of Business in 2000 with a Bachelor's Degree in Finance.
While it took a few years for Fox to make the jump from Salem to a city like Bloomington, Kristy knew right off the bat that IU would become her college home. She graduated from Salem High School just two years after Fox, in 1997. She said, "I didn't even think of another school. I had always visualized myself going to IU Bloomington. I didn't feel stressed when everyone else was stressing about where to go to college." One of her favorite things about living in Bloomington was that it was so diverse, and that was something she couldn't get living in Salem. She graduated in 2001 with a Bachelor's Degree in Apparel Merchandising and a Minor in Marketing. Years down the road, she still said, "I was really pleased with my experience there."
Despite having gone to the same high school and university, Fox and Kristy were never much more than acquaintances until later in their lives. She remembers, during high school, Fox would walk into Jackie Arnold's classroom from time to time to work on the high school newspaper. Kristy said, "I feel like I kind of always knew who he was, but he didn't really know me. And with a name like Fox, you knew who he was!"
After they graduated, Fox and Kristy had gone separate ways, following their own career paths. After he spent a short time in Indianapolis, Fox decided that he was not suited to the city life. He returned to Salem to begin the process of becoming an independent financial advisor.
At that time, Kristy was working as a retail buyer at a large corporate office in Columbus, Ohio called Limited Too, Inc. (now Tween Brands). One weekend, when she was home visiting family, she and Fox crossed paths in a local restaurant. They chatted a bit, and Kristy said, "I felt some sparks then, but it was nothing I really gave a second thought to."
The following Thanksgiving, when she was home again, she emailed Fox about a cake that his mom had made for a relative. And that's where things began. The two continued to email back and forth, and eventually began dating. Kristy laughed as she remembered, "He asked me out over email. My mom says that we 'met online'." Fox said of the incident, "I'm not the most out-going person, so it was easier for me to type, spell check-it, and then hit send."
They dated long-distance for a year while Kristy worked in Columbus. They both said that they knew early that they would be married, but it took some time to get everything sorted out. Kristy recalls that, at first, she had the thought that perhaps their relationship could work in Columbus. However, she said it didn't take long for her to realize that things would work out differently – and that she was OK with that. "It just made a lot of sense for me to move [to Salem]," she said. Fox had an established career by that point, her family was here, and the town provided a place where they could grow together. They were married on August 31, 2008.
After Kristy moved to Salem, the two lived in Fox's small, one-bedroom home on Reid Avenue. It wasn't long, though, before they began to outgrow their cozy space! They welcomed their first son, Reid Fox Purlee, two years after they were married. After his grandmother's passing in 2009, Fox inherited the house he remembered so well from his childhood. Fox and Kristy had just finished remodeling their new home when, a few weeks later, Reid was born!
Fox was always very involved in the Washington County community. "I've always had an appreciation for my roots," he said. He has a philosophy that says, "Support Indiana, support Washington County, and support Salem. I've always supported the area." So when Kristy became part of his life, community became a huge part of her life. Being back in her hometown, she began to appreciate what it had to offer all over again.
This was such a passion of theirs that it reflected in every aspect of their life – including their careers. In 2002, Fox became an independent Registered Representative with OneAmerica Securities (now Cetera Advisor Networks LLC) – a feat that took a lot of hard work and dedication. Fox said that he enjoyed being able to "help people [in his community] with their money accomplish their goals."
Kristy was also able to impact her community through her career influence. When she returned to Salem, she began working at the Washington County YMCA as the Quality Membership Director. She said, "I am passionate about making the community a place where everyone can live happily and peacefully and make it a great place for our children to grow up. The YMCA helps share that passion with community. "
Outside of their careers, Fox and Kristy got involved in other activities as well. Fox is currently a member of the Washington County Chamber of Commerce, and was an integral part of the Beck's Mill restoration project. He was a member of the Awareness Washington County class that founded the Friends of Beck's Mill Inc.. He was the treasurer of the group throughout the mill's restoration process. Kristy was always active with non-profit organizations like YMCA programs, Awareness Washington County, and serving on the executive committee for the Working on Wellness (W.O.W) non-profit group.
They also made sure that their faith was at the center of their life. While they attended Northside Christian Church in New Albany for a few years after they were married, they later became members of Southern Hills Christian Church in Salem. When asked about the transition, they said that they "liked that Southern Hills served our community." They also wanted to be where their son could be involved with his church family and friends, and the church provided that opportunity.
Their son, Reid, inspired them in more ways than just their faith. Kristy said, "I want Reid to be solid and confident in his faith," as well as, "to genuinely live life and to know where he comes from, but to also understand diversity."
Fox strived to instill in Reid an appreciation for what he has. "I want to give him a comfortable start, but I don't want him to be spoiled." It is important for him to, "understand his background, appreciate it, and work hard," Fox commented.
Fox and Kristy both said that their parents were the reason these qualities were important to them. "Our parents showed us that… it doesn't come for free."
Because they worked, lived and raised their family in Washington County, Fox and Kristy thought highly of their community. They said, what they loved most about Washington County was that it was a small town that was close to big-city amenities, when you desired them. Additionally, Kristy said, "I love that you can meet a new person and find someone you know in common and that Reid will be able to grow up in a place like that." She continued, saying that it was great how "everyone will rally together for a cause here." To her, these relations are a display of the love and compassion in Washington County.
Because of this love for their community, Fox and Kristy Purlee established a scholarship fund with the Washington County Community Foundation. Their fund will support a high school senior who desires to attend college, but falls into the "grey area" of financial need. They wanted to be able to show students that their community is supporting them and their aspirations.
Fox and Kristy Purlee made relationships with their family and friends a priority in their life, but also dedicated themselves to hard work. They integrated a passion for their community into every facet of their life, using their talents and resources to make Washington County a better place to be. While some might find this inessential, they consider it a privilege and responsibility. According to Paul Bloom, it is this outlook that provides one with the "key to the happy life," and it is because of this that they have left a lasting impact, for good, forever, in Washington County.