Tony and Jeanette Nolan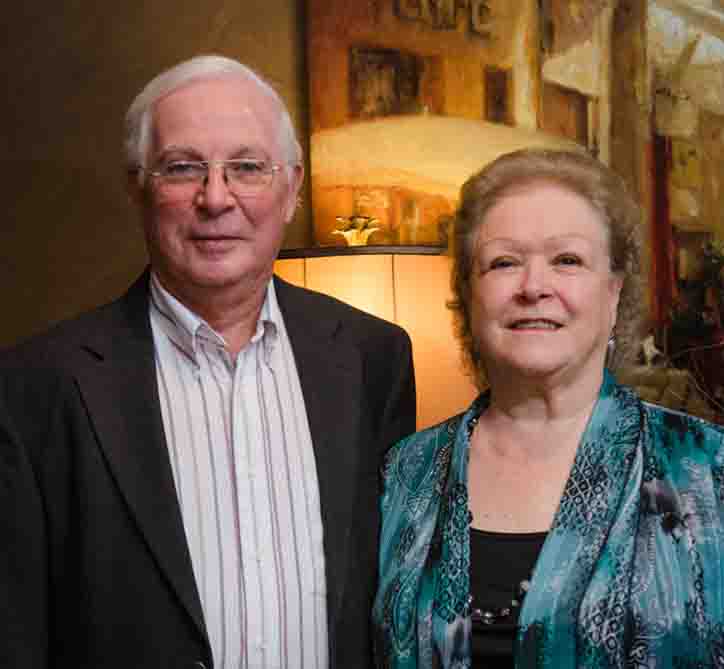 Making a difference in the lives of peoples in Washington County is important to Tony and Jeanette Nolan.
The former owners of Nolan True Value Hardware, the two keep busy giving back to the community that once supported their business.
Tony was born August 18, 1941, to Tony W. Nolan, Sr. and Thena Longworth. He was the youngest of six children and the only one to be born in a hospital. Although they lived in northern Washington County, Tony was born in Seymour because that was the closest hospital at the time.
His siblings were: Arvile Nolan, Everett Nolan, William Nolan, Dollie M. Nolan Edwards and Ruby Faye Nolan Wheeler.
Jeanette was born to James E. Simler and Florence E. Moore on October 14, 1949, at St Edwards Hospital in New Albany, Indiana. Jeanette and her family always lived in Lanesville, which is in Harrison County, Indiana. As a genealogist, she is proud of her heritage and the fact that the Simler family has lived in Lanesville since 1817.
Her siblings were: Charlotte Simler Lopp, John E. Simler, Evelyn Simler McPherson, Charles "Chuck" C. Simler and William W. Simler.
Jeanette has two sons that Tony helped her raise: Gary J. Atkins and Brian L. Atkins. They also have three grandsons, Joshua L. Atkins, Ryan T. Atkins and Joseph W. Atkins.
Tony graduated from Salem High School in 1959 and Jeanette from Lanesville (Franklin Twp) High School in 1967.
They met at the State Bank of Salem in April 1979, where Jeanette was a teller and Tony was a customer. Jeanette was divorced, Tony was a widower and they began dating on the 4th of July 1980. On a beautiful winter day, February 14, 1982, they were married at the Salem United Methodist Church and began their life together on his farm at Haleysburg in northern Washington County that had previously belonged to his parents. A lot of people thought that Tony picked the date because he was so romantic, but he said it was because it was easy to remember. "Plus I buy two cards and one big bunch of roses and I'm covered," he laughed.
Both Tony and Jeanette grew up poor but didn't realize what that meant because everyone they knew grew up with similar circumstances. Tony's parents moved to southern Indiana from southeastern Kentucky in 1929. Tony can remember using an outhouse and having a wood stove when he was young. His parents never had their driver's license and never owned a vehicle. Tony said a peddler delivered some of the family's groceries every week because they had no easy way to get to town.
Jeanette's parents met in a factory in Louisville, Kentucky, during World War II. Her mother, Florence, continued working at the factory while her dad, Jim, went away to join the war effort along with his two brothers and her two brothers.
Although neither attended college, Jeanette did take some classes from Indiana Banker's School. She worked in commercial banking for 18 years, including six years at the Federal Reserve Bank in Louisville, Kentucky. She also worked for three years at Allen's Law Office in Salem as their collection manager.
Immediately after graduating from high school in 1959, Tony moved to Columbus, Indiana, to live with his sister, Dollie, and her husband, Bob Edwards. Among Tony's first jobs, he was a carry out and stock clerk at IGA and then Kroger. He also worked at Arvins, Cummins, the railroad and the U. S. Post Office in Columbus.
In June of 1969, Tony made a purchase that would change his life forever. He became the owner of V. T. Reid Hardware, located at 208 West Market Street, Salem, Indiana, a job he didn't take lightly.
Tony said V. T. Reid was an amazing businessman, someone who knew a lot about business and how to succeed. "He was an honorable person and I had a great sense of respect for him and wanted to make sure the store did well," said Tony. "I wanted to carry on what he had left behind".
He said the community was great in supporting the business, which was renamed Nolan True Value Hardware.
"We had so many loyal customers at True Value," he said. "I'm proud that we had nine full-time employees when we sold the store."
Jeanette became her husband's business partner in January 1990 and worked with him until they sold the business on August 1, 1996, to Robert and Carol Strange of Salem.
Since selling the store, the two keep busy volunteering in the community.
They both are members of the Washington County Fair Board, with 50-plus years of service between the two of them.
"This is an organization we love and one that needs to go on," said Jeanette.
They also enjoy volunteering for the county Christmas Assistance Program (CAP) which provides for less-fortunate children
Another organization Tony and Jeanette support is Relay for Life, which is a part of the American Cancer Society. They assist the treasurer with the local county event in collecting, verifying and depositing funds for Relay.
"Since Tony is a colon cancer survivor after surgery in December 1989, we feel a special need to support this event," said Jeanette.
Tony and Jeanette are supporters of Blue River Services, Inc., which provides for special needs people of all ages in southern Indiana and where her sister, Evelyn McPherson, is the director of community relations and fund development.
In 2011, Tony was invited to join the advisory board for the Washington County Youth Foundation, which is a branch of the Washington County Community Foundation.
Jeanette served on the board of directors for the Washington County Community Foundation. As a former board member, Jeanette said it was her goal to make sure as many people as possible know how easy it is to set up a fund with the foundation and make a contribution to the community that will go on forever.
Tony and Jeanette want future generations of Washington County residents to know they care deeply for the well-being of people in the county.
"We want people to have successful lives and we've always tried to treat people with respect and dignity," said Jeanette.
The support they received from the community is one reason the Nolans decided to start a fund with the Washington County Community Foundation. Their fund is an unrestricted Touch Tomorrow fund that benefits the community wherever it is needed.
"The county made us successful," said Jeanette. "We are glad we could give back and it will be there forever."