Max and Phyllis Hinkle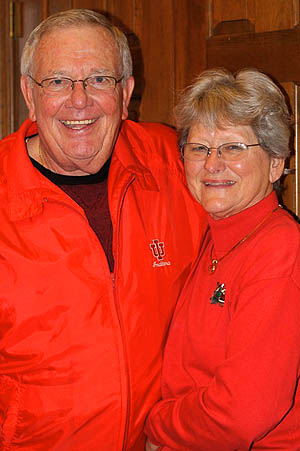 For Max and Phyllis Hinkle, it didn't take long to realize they were meant to be together for the rest of their lives.
Phyllis was working at a restaurant in Memphis, Ind., and Max was involved in the construction of Interstate 65. In June of 1959, he visited the restaurant where Phyllis was working and in August of 1959, the two were walking down the aisle.
"That was 51 years ago!" said Phyllis.
Max Hinkle was born in 1938 to Howard and Frances Hinkle in Martinsburg. Howard was the Oldsmobile dealer in Salem for more than 50 years.
Max has one brother, Larry, who retired as a teacher from Brownstown High School.
In 1955, Max graduated from Salem High School and furthered his education at Indiana University, where he earned a degree in business.
He had one semester left of college when he met Phyllis. The two returned to Bloomington, where they started their married life.
After graduation in January 1960, he joined CTS Corporation in Elkhart, Ind. He began his career as a customer service representative and eventually took on many other roles in the company. He became a sales engineer, sales manager at the Asheville, N.C., facility, vice president of sales at the Sandwich, Ill. plant and director of corporate industrial sales in Elkhart. He spent 11 years with the company.
In 1971, he was employed with the electronic component marketing firm of R.O. Whitesell and Associates in their Ft. Wayne office. In 1976, he was promoted to vice president of their northern division, managing sales out of their Detroit office.
In 1980, he was transferred to the Indianapolis headquarters where he managed sales in their western and southern regions. In 1981, he and two other employees purchased the assets of the company and in 1983 he was named president, where he remained until he sold the company in 1997. During his 14 years as president, sales grew from $100 million to more than $400 million.
Hinkle is president of a real estate holding company and the general partner in an equity managed limited partnership.
He is a member of the National Eagle Scout Society, the Salem Masonic Lodge, the Indianapolis Scottish Rite, Electronic Representative's Association, the Indiana University Varsity Club, Highland Golf and Country Club in Indianapolis and the Landings Golf and Country Club in Savannah, Ga.
Phyllis was born in Henryville in 1939 to Phillip and Amy Linne. She graduated from Henryville High School in 1958, a year before she met and married Max. The two were married in the First Christian Church in Salem.
They have one son, Allan, who resides in the Detroit, Mich., area and a daughter, Kimberly, who lives in Indianapolis. They have two granddaughters and one grandson.
Phyllis has spent her life as a homemaker, wife, mother and grandmother.
The Hinkles established a fund with the Washington County Community Foundation in honor of Max's father and stepmother, Howard and Juanita Hinkle, in 2002. The purpose of the fund is to provide vocational scholarships to Washington County high school students. The scholarship is to be rotated between the three county high schools.
In 2010, they started a fund in their own names: Max E. and Phyllis Hinkle Scholarship Fund. The purpose is to provide a scholarship to a Salem High School graduate who plans to attend the School of Business at Indiana University.
Max said they started the fund for several reasons, but mainly because he felt the scholarship would be a good thing for Washington County and for a student who wanted to further their education at IU. He said he was also very pleased with the fund he started several years ago in his father's and step-mother's names.
He added that the tax advantages associated with the funds were also very appealing.
"I'm going to be buried in Washington County," he said. "It's my home and I think a lot of Salem and appreciate the development provided to me by the Salem school system in preparing me for what lie ahead after graduation from high school."
When asked how he wants future generations to remember him, Max said, "As a guy from Salem who went out into the business world and found some success and is now sharing that with a worthy student and the Washington County