Mary Hilton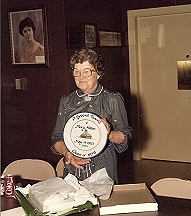 "A good teacher is like a candle-it consumes itself to light the way for others." It is not known who wrote this, but it could have been about Mary Hilton.
Mary taught, mentored, and enriched the lives of her Pekin High School students every day. Even after "Pomp and Circumstance" and the graduation ritual was a memory, Mary continued to be a part of her students' lives. Many recall her patience, sincerity, and dedication-giving up her personal time to help with a paper drive fundraiser or tutoring students in Latin or Biology. "She was always willing to help with countless projects and functions in both school events and our personal lives", remembers one student of the Pekin High School Class of 1958. "She instilled in us an awareness of life as she gave so generously of herself. Our heritage is deeply rooted in Pekin-Eastern High School, Washington County, and memories of Mary Hilton."
Mary retired in 1977 after 40 years of teaching. Mary was always a tireless volunteer for her community. She served as the "Welcome Neighbor Hostess" for the Chamber of Commerce for 15 years. She and her husband, Russell, received the "Citizen of the Year" honor in 1985. Mary was a member of Phi Beta Psi Sorority for 58 years. Mary was a resident of Washington County for 95 years, before passing away in March 2007.
Another former student reminisced that "Mary Hilton had a strong passion for kids and did not take "no" for an answer – there were never any excuses in her classes. She was driven to have each of us walk away with the tools to succeed in whatever profession we entered. She had a dream for us before we had our own dreams and she made a positive difference in our lives. She is one of those people whom we can only pay through what we do for others."
Mary Hilton was a beloved teacher, mentor, and friend to all students whose lives she touched just by being herself.