Jeff and Karen Morgan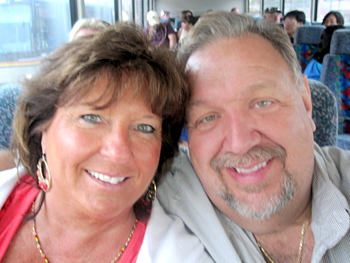 Not many people get the opportunity to work side-by-side with their husband or wife each day. However, Dr. Jeffrey Morgan and his wife Karen have gotten the chance to work as a team for over 20 years. Together, they have spent many years making a commitment to serve their community and make a positive impact on countless lives.
Jeffrey Morgan was born in Salem to Donald and Helen Morgan in 1959. When he and his siblings, Charles and Terry, were young, Dr. Morgan's family moved to Indianapolis. The family then resided there until his freshman year of high school. At this point, they returned to Salem, where Dr. Morgan graduated in 1977. Following graduation, he attended Indiana University Southeast to receive his bachelor's degree. He had been accepted to the Indiana University School of Medicine, so he then made his way to Indianapolis in the fall of 1981. Dr. Morgan completed his residency in Internal Medicine, as well as his Fellowship in Gastroenterology, at the University of Louisville. Beginning in 1987, shortly after his residency, Dr. Morgan began serving as an ER doctor, working night shifts at the Washington County Hospital. After completion of his post graduate training in 1991, he opened up a private practice in Salem.
In 1989, Dr. Morgan met his future bride, Karen Powell Wike. Karen was also a resident of Washington County. She was born in Louisville and lived there for many years as a girl. Following her eighth grade year, her family moved to a farm in the Pekin/Palmyra area, where she attended Eastern High School. After graduating in 1975, Karen also attended Indiana University Southeast, where she studied nursing. After graduating as a registered nurse in 1979, Karen began her lifelong career. Before meeting Dr. Morgan, she worked at several hospitals, including Clark Memorial, Floyd Memorial, and University Hospital. Karen's oldest daughter, Kristy, was born in 1979.
Karen married Dr. Morgan in 1990. That same year, Dr. Morgan began a private practice in Salem in Gastroenterology and Internal Medicine. Karen made the decision to join him in his practice, and the two have now worked in the same office for over 20 years. In 2010, Dr. Morgan made the decision to sell his company to St. Vincent, making him a member of the St. Vincent Physician Network. While he is still doing what he loves and serving his community, he was able to be relieved of some of the pressures of owning a private office.
While serving Washington County for many years, the Morgans have also raised their family in the Salem community. They had two more children after moving back to Washington County, Brooklyn in 1991 and Jacob in 1993. All three children graduated from Salem High School. Kristy is now married to Fox Purlee and has a son, Reid. Brooklyn is currently studying at Lincoln Christian University, where she will be a junior. Jacob just graduated from Salem High School, and he will be attending Wheaton College, a Christian liberal arts college near Chicago, this fall. The Morgans have a strong Christian faith, and they have always made teaching their children to serve Christ a high priority. The family has now been involved in Northside Christian Church in New Albany for ten years. Dr. Morgan states that he and his wife chose to start attending there because they felt that it would be a church where their children could get very involved and grow as Christians.
Dr. Morgan has chosen to get involved and serve those around him in many capacities. "He has always had a really giving heart and always gives very willingly," Kristy Purlee asserts. Dr. Morgan is currently on the St. Vincent Salem Hospital Board of Directors and serves as Washington County Health Department's Health Officer. He is also the Washington County Ambulance Service's Medical Director. Dr. Morgan is a member of the American Medical Association, the American College of Gastroenterology, the Indiana Medical Association, the Kentucky Medical Society, and the American Society of Gastrointestinal Endoscopy. Aside from his professional involvement and service, Dr. Morgan has also served his community in a variety of other ways. He is a former director of the Washington County Chamber of Commerce as well as a former board member of Awareness Washington County.
Karen has also done her part in getting involved in her community. She is a graduate of Awareness Washington County. She and her husband host a biweekly Bible study group in their home, and she also helps conduct a Bible study for female prisoners at the Washington County Jail the first Monday of every month. She enjoys reading, traveling and playing with her grandson.
Dr. Morgan also has a passion for flying and has been doing so since receiving his pilot's license at age 17. His father, brother and nephews are all pilots as well. He also enjoys many other hobbies, including canoe and kayak building, woodworking, and do-it-yourself projects. Dr. Morgan always enjoys staying busy. He also loves playing with his grandson.
As can be seen with their involvement in their community, the Morgans have always had a desire to give back. "My parents have always been very generous and thoughtful," stated their daughter Kristy. The Morgans had made a commitment for many years to honor patients and friends that passed away through donating to the Washington County Community Foundation in the patient's/friend's name. "I believe the Community Foundation is a great thing and a great opportunity for our community to help others," states Dr. Morgan.
With enough years of donating money in honor of many patients, the Morgans finally made the decision to just go ahead and start a fund that they could place money into each time they donated to the Community Foundation. This was the beginning of the Jeffrey G. and Karen M. Moran Touch Tomorrow Fund. Thanks to their generosity, this fund will continue helping the people of Washington County for many years to come.